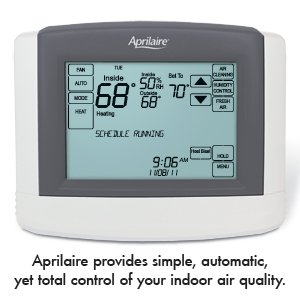 If someone in your home suffers from allergies or asthma, you already know the negative impact that polluted air can have. No matter how clean you keep your home, it's likely full of harmful particles that can exacerbate allergies and asthma—and increase the likelihood of colds and flu.

Aprilaire can help you control the purity of the air in your home with a whole home air purifier. And unlike standard portable air purifiers, a whole home air purifier is installed as part of your home's heating and cooling system in order to effectively remove polluted air not just in one room—but throughout your entire home.
Indoor Air Pollution is Harming Your Health
The air inside your home could be more harmful to your family than the air outside. In fact, indoor air pollution was recently named by the EPA as one of the top five risks to public health. That's because it's filled with:
These can cause health issues, such as:
"Poor indoor air quality can cause or contribute to the development of chronic respiratory diseases such as asthma and hypersensitivity pneumonitis. In addition, it can cause headaches, dry eyes, nasal congestion, nausea and fatigue. People who already have respiratory diseases are at greater risk."
- American Lung Association
A Whole Home Air Purifier Can Help
An Aprilaire whole home air purifier is installed as part of your home's central heating and cooling system, away from living areas. The air in your home runs through our state-of-the-art filter media, delivering clean air throughout your entire home, silently and efficiently.
A Whole Home Air Purifier Cleans the Air on Your Terms
Unlike air purifiers that only work when your heating and cooling system is running, Event-Based™ Air Cleaning from Aprilaire lets you call the shots. You control when and how the air purifier works based on day-to-day events, conditions and activities, such as:
Allergy season
Spring cleaning
Any time there's extra dust in the air
And it all works with a touch of a button.
Find the Right Whole Home Air Purifier For You
Be sure to ask an Aprilaire professional which solution is right for your home and your family. Find a professional near you today.