The air you breathe inside your home could be the most polluted air you breathe all day.
The EPA has named indoor air pollution as one of the top five environmental risks to public health.
With the amount of time spent indoors, it's no wonder so many people suffer from allergies, asthma and other illnesses.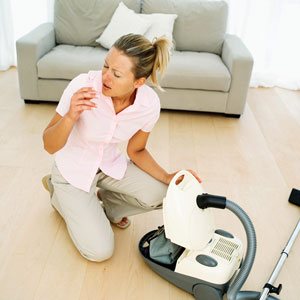 Just one cubic foot of air can have more than 30 million pollutants—that's 100 times more than the air outside. About 40,000 dust mites, which increase the chance of asthma development,* can live in just one ounce of dust. Aprilaire can help you fight back at the particles that are harming your home and your family.
A whole-home air purifier will help you manage it. Installed as part of your home's heating and cooling system, it puts you in complete control of air purity. When your HVAC system fan is on, it delivers cleaner, healthier air not just in one room, but throughout your entire home. A whole-home air purifier can help you trap the most damaging particles that are common in most homes.
"Particles rated at PM 2.5 have been identified as the most significant indoor contaminant in terms of chronic health impacts in residences … Sources include combustion products, cooking, candles, outdoor air and more. PM 2.5 can be removed using MERV 10 filters and higher."
-American Society of Heating, Refrigerating, and Air-Conditioning Engineers (ASHRAE) Standards Committee Guidelines – June 17, 2015
Control Health
A whole-home air cleaner removes particulates and irritants throughout your home. That includes asthma and allergen triggers like mold spores, pet dander, dust mites, bacteria, pollen and even viruses.
Control Dust
You'll notice less dust build up, making your home look and feel cleaner, while protecting appliances and electronics.
Protect Your Home
You'll also keep your air conditioner's cooling coil clean and your furnace working more efficiently, saving energy, minimizing repair costs and extending service life.
Control Air Purity Throughout Your Home with Event-Based™ Air Cleaning
An Aprilaire air purifier gives you the ability to control when and how it works. Aprilaire Event-Based™ Air Cleaning is integrated into your Thermostats, allowing you to manage your air purifier based on your needs with a simple-to-use control that's conveniently located in your living space. Aprilaire Wi-Fi Thermostats with IAQ Control provide control from the convenience of your smart phone or tablet.
Aprilaire—delivering improved comfort to your home and family
Whether you want standard air cleaning functionality and optimum protection of your heating and cooling system, or you want 98% effectiveness at removing particles as small as one micron—that's 1/100th the diameter of a human hair— Aprilaire gives you air cleaning on your terms with exclusive Event-Based® air cleaning control. Aprilaire Air Purifiers give you the performance and peace of mind you deserve. Our easy-to-install,high-performance filters only need to be replaced once every year. Plus, all of our air cleaners come with a five-year warranty and a 10-year clean coil guarantee for your cooling system.
*AirAdvice State of Our Indoor Air Report, 2007