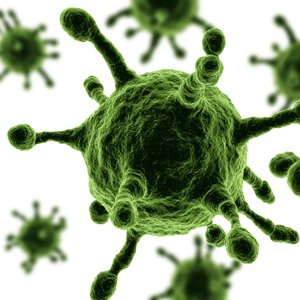 Viruses that cause flu are so tiny you need a microscope to see them. Without warning they can invade your body and make you sick. The threat increases with lack of proper indoor air quality management because these viruses can get trapped in your home and quickly spread.
This is especially true during the winter months when your indoor relative humidity levels are low and the air is stagnant. To prevent colds, it's important to focus on indoor air quality.
Aprilaire offers solutions to help control the spread of airborne viruses and other contaminants. Use our solution finder or locate a professional to find out which Aprilaire solutions are right for you and your home.
Control Indoor Air Quality and Help Prevent Flu
While it's impossible to completely rid your home of viruses that cause colds, Aprilaire whole-home indoor air quality solutions can help you minimize the threats they present to your family.
Control humidity: Low relative humidity can make you more susceptible to colds and has been linked to speedier progression and transmission of viruses in the air.* As you can see from the chart below, low indoor relative humidity levels during the winter months correlate with a higher number of respiratory disease cases.


| | |
| --- | --- |
| | |


Experts say the best way to prevent the common cold is with humidity control:

"Prevention of the common cold at present is our nearest approach to a cure. The most important prevention measure would appear to be proper regulation of the humidity, especially during the heating season with its distressing drying of the indoor air and the creation of an environment favorable to the cold bug." – Dr. Joseph Lubart, expert on the common cold, New York State Journal of Medicine

An Aprilaire Whole-Home Humidifier will help you manage the relative humidity in your entire home. Learn more about how relative humidity works here.

*1. Department of Microbiology, Mount Sinai School of Medicine article, Influenza Virus Transmission Is Dependent on Relative Humidity and Temperature; 2007; New York, NewYork, USA. 2. Oregon State University College of Oceanic and Atmospheric Sciences


Control air purity: Particulate matter, including bacteria and viruses, is a leading cause of poor indoor air—found in 85% of homes.* Only those air purifiers with the highest efficiency can consistently remove particles of the smallest size (0.3 – 1.0 microns), like bacteria and viruses. The Aprilaire Model 5000 Air Purifier eliminates up to 98 percent of airborne bacteria-sized particles. And it removes up to 80 percent of airborne virus-sized particles—something no other air purifier in the industry can do. *Air Advice State of Our Indoor Air Report, 2007


Control air freshness/ventilation: While today's tightly sealed homes are great for conserving energy, they can also trap air that contain flu viruses. Aprilaire whole-home ventilation solutions can help rid your home of these contaminants. Ventilation pulls fresh air into your home from the outside, while pushing stale, contaminated air out. Aprilaire ventilation can work on its own or with other indoor comfort solutions—air purity, humidity and temperature—to give you total comfort control.