How Healthy Humidity Can Help Fight Viruses and More
3 minute read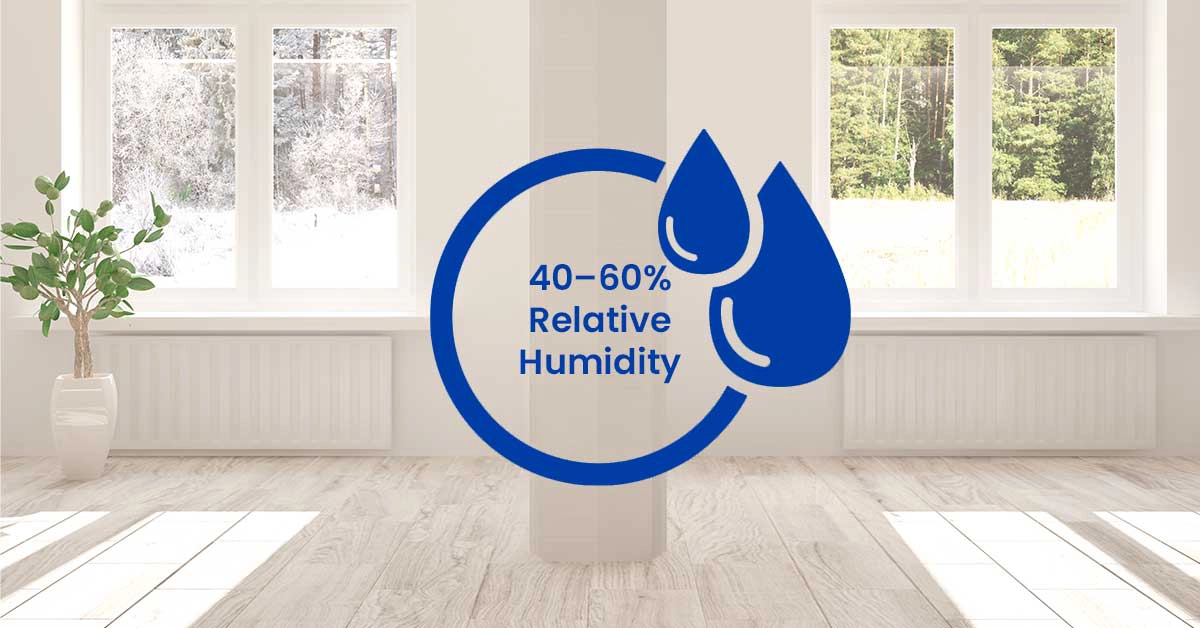 We're all too aware of the sticky, tacky sensation we feel as a result of high humidity in the summertime and the itchy, dry conditions brought on by low humidity in the winter. But, did you know that Healthy Humidity can help viruses, like COVID-19, and more?
Over the years, you've heard us and other experts like ASHRAE, the CDC, and the EPA talk about the importance of keeping your home's humidity at a balanced level year-round in an effort to reduce the negative home and health symptoms caused by high and low humidity.  Let's explore further: By maintaining balanced humidity between 40% and 60% year-round (known as our Healthy Humidity Zone), health concerns like bacteria growth, virus prevalence, respiratory infections, and allergy and asthma symptoms (among others) diminish as your home reaches an optimal humidity level.
Maintaining Healthy Humidity in the Summer
While we typically tend to explore solutions that can improve our overall wellness during the low humidity points of the wintertime, it's still possible to be impacted by viruses, bacteria, and more in the summertime when humidity is high. Regardless of the season, homes with balanced humidity can improve our respiratory immune system's defenses, making them more effective at capturing, removing, or fighting germs.
To achieve optimal health in the summertime, adding an AprilAire whole-home dehumidifier can help save you from the muggy, sticky feeling you may experience in your home while also offering standout health- and home-related benefits.
In fact, research shows that no matter the temperature of your space, a room with 50% humidity can not only provide the comfort you desire, but is proven to offer fast virus inactivation, with less than 1% of viruses viable after two days. These findings help us further underscore the importance of achieving balanced humidity that falls within our Healthy Humidity Zone of 40% and 60%.
Maintaining Healthy Humidity in the Winter
In the wintertime, using an AprilAire whole-home humidifier can help keep you protected from dry air in your home that may impact your airways and skin, allowing you to achieve a wealth of valuable benefits as well. But, how can using a humidifier in the winter help protect you and your family from virus-sized particles, like COVID-19, in your home like AprilAire dehumidifiers can in the summer?
Research shows that coronaviruses on surfaces stay viable for a week in heated, dry indoor air with humidity that falls far below (~20%) and above (~80%) our Healthy Humidity Zone, which is between 40% and 60%. By humidifying your air to 50%, this data shows that you can reduce viable viruses to less than 1% in two days and significantly reduce your risk of infection.
Healthy Humidity Can Help Fight Viruses Everywhere
We're all searching for ways to stay safe and healthy at home, but, depending on where you live, your humidity control needs may be different than a region that experiences all four seasons, one with harsher winters, or one with hot, low-humidity summers. No matter where you live or what your home's needs are, a Healthy Air Hero in your area can help you find the right solutions so you can achieve Healthy Humidity year-round.
Take the first step today to find out how keeping your home's humidity in our Healthy Humidity Zone (between 40% and 60%) can help protect your home's air from viruses, like COVID-19, and other unwanted contaminants that tend to thrive in high or low humidity environments.
Find an AprilAire Healthy Air Professional
Start your Healthy Air journey with one of the 4,500 pros nationwide so you can fill your home with fresh, clean air.