Today's homes are tightly sealed, built with energy efficiency in mind. While this is good for keeping heated and cooled air from seeping out, it also keeps uncomfortable odors and harmful pollutants trapped in your home.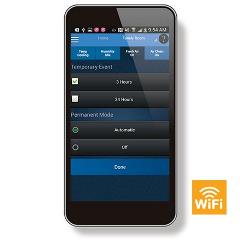 Aprilaire can help you control fresh air and keep your family comfortable and safe with a whole-home ventilation system. Aprilaire whole-home ventilation solutions are installed as part of your home's heating and cooling system to expel stale, polluted air and replace it with fresh, clean air.
Why You Need a Proper Ventilation System
Without a proper ventilation system, every time your air conditioner or furnace runs, you circulate the same stale air throughout your home. This allows smelly odors from cooking, pets and other sources to linger. This is an uncomfortable nuisance, but it gets worse.
Air that's trapped in your home can also contain harmful, toxic chemicals that could be threatening the health of your family. According to the Environmental Protection Agency (EPA), the concentration of pollutants can be up to 10 times greater inside your home than outside.
Common household contaminants found even in the best-kept homes include:
How Aprilaire Ventilation Solutions Can Help
A whole-home ventilation system from Aprilaire can help you control the freshness of the air in your home to create a healthier, more comfortable environment for you and your family.
Installed as part of your home's heating and cooling system, an Aprilaire ventilation system can expel cancer-causing pollutants and foul-smelling air and replaces it with fresh, outdoor air. Not just in one room, but throughout your entire home.
Aprilaire ventilation solutions also help you monitor and control temperature and humidity for greater comfort at a lower cost.
To learn more about how an Aprilaire ventilation system can help improve your family's comfort and health, watch our Total Comfort Fresh Air video.
Aprilaire Ventilation vs. Natural Ventilation
Natural ventilation occurs when outside air enters through your open doors and windows. Natural ventilation isn't always feasible due to security risks and weather conditions. And it isn't always effective at bringing in enough fresh outdoor air or expelling enough polluted indoor air.
Aprilaire ventilation solutions are installed as part of your heating and cooling system to remove polluted indoor air and then distribute filtered and conditioned outdoor air throughout the house.
Aprilaire ventilation allows you to automatically control the freshness of your air year-round. You manage both the quantity and quality of air being brought into your home.
The Right Control of Fresh Air for Every Home
Aprilaire Ventilation Controls are designed to meet new home construction ventilation requirements*** and are calibrated based on the size of your home, climate and family size. Set up is handled by your professional for worry-free operation. You can also choose to ventilate based on events, such as cooking, entertaining or cleaning.

Our ventilation controller allows you to manually adjust the length of time your ventilation system runs, up to 60 minutes.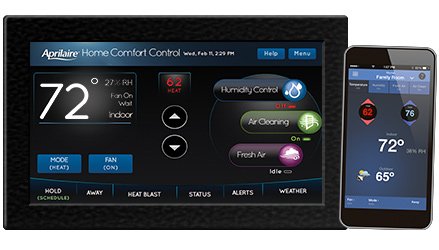 Aprilaire Wi-Fi Thermostats with ​IAQ Control provide the most convenient and accurate control of fresh air ventilation and temperature. Through the use of the Aprilaire WI-Fi Thermostat and app, you can easily control you indoor air quality anywhere from a mobile device. The app also allows you to control other installed Aprilaire IAQ products for optimum humidity levels and air purity and keeps you up-to-date about changing climate conditions in your home.
***IRC and IMC, IECC, ENERGY STAR® Qualified Homes Version 3, LEED
Model 8920W shown. Aprilaire offers a full line of Wi-Fi and wired thermostats for convenient, efficient control of temperature, fresh air ventilation and all indoor air quality accessories.
Find the Right Aprilaire Ventilation Solution for You
Aprilaire offers two ventilation system options: our standard Ventilation Control System or the Energy Recovery Ventilator. Each one is designed to help homeowners achieve the right level of comfort for their unique needs. Be sure to ask an Aprilaire professional which solution is right for your home and your family. Find a professional near you today.
Aprilaire Offers a Full Range of Indoor Air Quality Solutions
Aprilaire has been delivering Total Comfort solutions for more than 50 years. Our products work with all leading brands of heating and cooling equipment. Plus, we partner industry-leading contractors, so you get the most comprehensive line of solutions available today.