Aprilaire offers many ventilation options. Our Ventilation Control and Power Ventilator are designed to efficiently and easily manage fresh air ventilation when needed.
Our advanced Energy Recovery Ventilator (ERV) conditions the outside air to achieve a comfortable temperature and humidity level before delivering it throughout your home. The ERV also ensures that balanced air pressure is maintained and saves energy by transferring extremely hot or cold air through the system to the outside.
Aprilaire Ventilation Controls are designed to meet new home construction ventilation requirements* and are calibrated based on the size of your home, climate and family size.
Set up is easily handled by your professional for worry-free operation. You can also choose to ventilate based on events, such as cooking, entertaining or cleanin
Our Ventilation Controller is available for any Aprilaire ventilation system and allows you to adjust the length of time your ventilation system runs, up to 60 minutes.
Home Comfort Control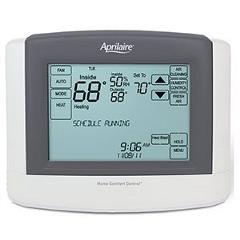 The Aprilaire Home Comfort Control™ is an easy-to-use touch screen thermostat that lets you manage air cleaning based on your needs, while also managing your temperature, humidity and air freshness. It puts you in total control of the comfort and health of your home and family.
*IRC and IMC,IECC,ENERGY STAR®, Qualified Homes Version 3, LEED