Remove Pet Dander with A Portable or Whole-Home Air Purifier
2 minute read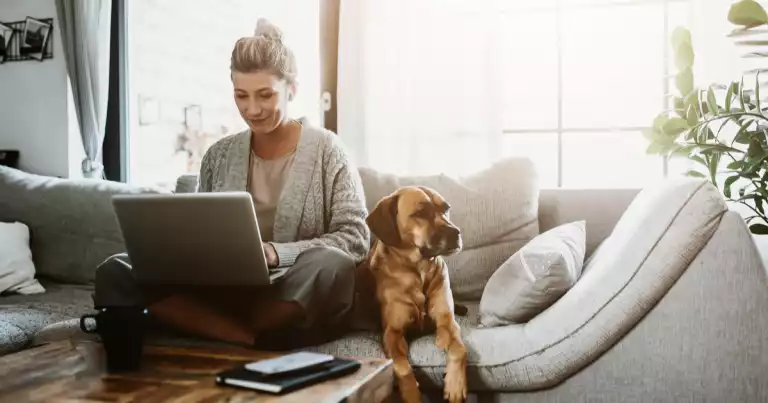 Pet ownership increases dander in the home
Pet ownership has increased during the COVID-19 pandemic. People are looking for companionship while they are home alone and a new furry friend provides that. Pets also provide dander and odor. According to the Mayo Clinic, even if the pet is hypoallergenic, it is still going to produce dander.
Luckily, there is a solution to counteract these allergens, but it is not dusting and using scented air sprays. No matter how much you spray and dust, odor, and dander will still linger in the air and can even attach to fabrics in the home. These aerosols need to be captured. An AprilAire Air Purifier is the perfect solution for removing those airborne irritants. You can either install a whole-home unit or use a room air purifier depending on need.
Whole-home Air Purifier
A whole-home air purifier can be installed as part of your home's HVAC system to help trap and capture those aerosols and with its Pure Fit Promise, you can be guaranteed that AprilAire Air Filters and Air Purifiers will work together to effectively trap odors and allergens. A whole-home unit also helps protect your HVAC unit. By trapping dust, and debris, it can help keep your unit running effectively for longer. Otherwise, they can clog up your HVAC system, diminishing the system's efficiency and lifespan.
Portable Air Purifier
A portable unit is an ideal solution if you do not have an HVAC system with ductwork, you are in a smaller space such as a studio apartment, or if the pet is limited to one room. Equipped with a HEPA Filter, the room air purifier traps up to 99.97% of odors and allergens that flow through.  The unit is lightweight and can be easily transported from room to room. It also comes equipped with four separate modes to choose from including manual, automatic, turbo, and smart. In smart mode, the system automatically detects airborne impurities and you can watch the air particle level indicator move from red to yellow to green as it purifies your air.
There are also several other benefits to using an air purifier for your home including reducing the transmission of airborne viruses and bacteria, and other toxins that linger in your indoor environment and sometimes from unsuspecting sources like your couch. No matter your need, an AprilAire Air Purifier will help purify your home's air so you can love your pet without holding your nose or a tissue.