How to Reduce Health Risks From Sick Building Syndrome
3 minute read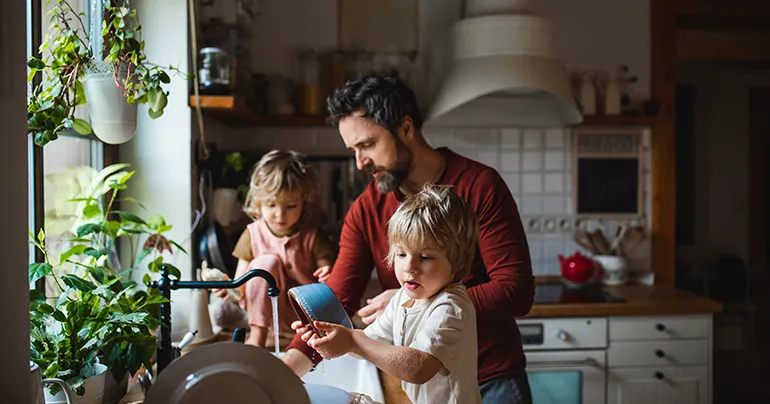 How is the air quality in your home? It can be hard to tell, especially when we spend so much time indoors (90% of our lives, to be exact, according to the EPA). If you find yourself feeling a bit under the weather—suffering from allergy symptoms, headaches, and more—while in your home, it's possible that you might have poor IAQ (Indoor Air Quality).
One way to deduce if your Indoor Air Quality is poor is to step outside of your home for an extended period of time and see if your symptoms subside. If once you get back home, you discover your symptoms have returned, it's safe to assume your air is unhealthy. This phenomenon is called 'sick building syndrome' and can happen anywhere, in any indoor space. Sick building syndrome describes a situation where an occupant of a building experiences varying health risks that seem to correlate directly with time spent in a specific space.
So, your air is unhealthy. Who wants to breathe dirty air, especially with all the time we're spending at home lately? Luckily, it's a quick and easy fix with many solutions that can help get your air clean and healthy once again. Let's take a look at what causes poor IAQ and discuss some options for feeling better and obtaining Healthy Air at home.
Common Sources that Contribute to Health Risks
Your home's air quality can be impacted by many different sources. Here are some to consider:
Tobacco smoke from indoor smokers that penetrates the air
Moisture from poor humidity control or standing water that leads to mold and mildew
New furniture or carpets that off-gas VOCs
Disinfectants, pesticides, and cleaning products that send chemicals into the air
Unknown radon or other dangerous substances, like lead or asbestos, all around you
Vehicles running in close proximity to your home and their emissions
Ways to Reduce Health Risks from Sick Building Syndrome
Now that we've discovered what's contributing to your poor Indoor Air Quality, it's time to come up with solutions. Let's start here:
Ensure you're not smoking inside your home. Smoking indoors is a surefire way to create an unhealthy indoor environment. If you or someone in your household smokes, be sure to do it outside, away from open windows and doors to prevent smoke from lingering inside your home.
Keep an eye on moisture levels in your home to limit your chances of mold and mildew growth.
Use products with low or no-VOCs, like natural, chemical-free cleaning products and sustainable home furnishings and accents.
Test for radon or other dangerous substances that could be impacting your home.
Install an AprilAire Healthy Air System®.
The AprilAire Healthy Air System®
This system, comprised of award-winning fresh air ventilation, air filtration, and humidity control, can help you combat poor IAQ and invite Healthy Air inside your home.
Fresh air ventilation breathes good air in and exhales the dirty air out, helping dilute and remove contaminants from your home's air.
Air filtration and purification help decrease stagnant air in your home, providing your family with clean, breathable air. AprilAire purifiers help minimize the risk of allergy symptoms, asthma triggers, and long-term respiratory irritants.
Humidity control helps reduce the transmission of viruses, prevents mold growth, and preserves your home. Humidity control can be achieved in two ways:

With a dehumidifier. An AprilAire dehumidifier is for when there is too much moisture in the air and works to help relieve your home of indoor air pollutants like mold spores, mildew, dust mites, and more.
With a humidifier. An AprilAire humidifier is for when the air is too dry, helping keep your family healthy during the winter months.
No matter what you need, it's best to keep your home's humidity between 40-60 percent for optimal results.
Ready to transform your air? See how a Healthy Air Professional in your area can help. Plus, check out some of our other award-winning products.