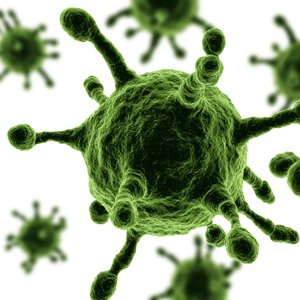 Viruses are tiny organisms that invade your body and can cause severe illness.
They can cause many painful symptoms, including:
Nausea
Diarrhea
Headaches
Muscle aches
Chills and sweats
Fatigue and weakness
Cough
Nasal congestion
Viruses are found everywhere, including your indoor air. Poor air quality in​side increases your family's chances of getting sick. Improve your indoor air quality to prevent viruses, such as:
Common cold
Influenza
Stomach flu
Chicken pox
Measles

How do you ​avoid such a tiny organism?
Aprilaire offers solutions to ​reduce viruses and rid your home of other contaminants. Locate a professional to find the Aprilaire solutions that are right for you and your family.
Help Prevent Viruses with Control of Indoor Air Quality
Show viruses the door with the help of Aprilaire whole-home indoor air quality solutions. While it's impossible to completely rid your home of all pollutants or viruses, Aprilaire can help you greatly minimize the threat they pose to your family.
Three ways to prevent viruses are to control humidity, control air purity and control air freshness.
Control humidity: Viruses that cause cold and flu thrive in low humidity, and according to the American Society of Otolaryngology, dry air makes people more susceptible to infection. With that one-two punch, humidity control in your home is essential to reducing your chance of catching cold or flu viruses. Aprilaire allows you to control humidity with a whole-home humidifier that functions as part of your central heating and cooling system.
Control ​the purity of your air: Particulate matter, including bacteria and viruses, is a leading cause of poor air indoors—found in 85% of homes.* Only those air purifiers with the highest efficiency can consistently remove particles of the smallest size (0.3 – 1.0 microns), like bacteria and viruses. *Air Advice State of Our Indoor Air Report 2007
Control air freshness: While today's tightly sealed homes are great for conserving energy, they can also trap air that contains viruses. Aprilaire whole-home ventilation systems pull fresh air into your home from the outside, while pushing stale, virus-filled air out.