Which thermostat is right for your home.
A properly designed thermostat can do much more than just turn your heating and cooling system on and off. Health and comfort go beyond temperature. Your thermostat should be an easy-to-use command center that lets you control and customize your entire IAQ experience. That's why we created an entire family of digital thermostats to meet any home's specific needs.
Achieve total comfort and energy savings with an Aprilaire Thermostat
The Aprilaire Advantage
Find the right Aprilaire Thermostat for you
Aprilaire offers a full range of indoor air quality solutions
Healthy, comfortable and Energy Efficient with Aprilaire
To create an optimal indoor environment, you need to consider all aspects of indoor air quality (IAQ)—not just temperature: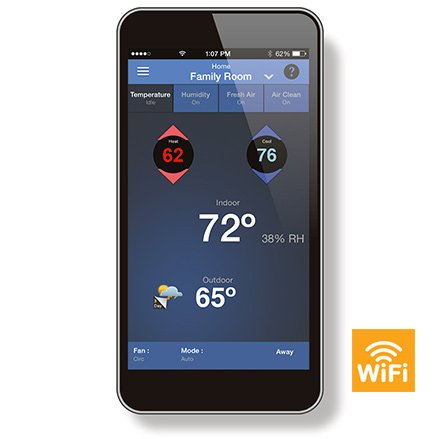 It's the balance of all of these that create total home comfort. An Aprilaire thermostat or controller allows you to manage these conditions with the touch of a button.
With an Aprilaire thermostat, total comfort and energy savings aren't mutually exclusive. A Programmable Thermostat allows you to program based on your schedule and preferences.
Clean and simple, the Aprilaire Wi-Fi Thermostat app has intuitive temperature control features designed so anyone can understand and use them to effectively deliver comfort and energy savings.
But that's not all. Aprilaire, the #1 provider of indoor air quality solutions, also offers Wi-Fi IAQ Control: the ability to balance all aspects of healthy indoor air, including Temperature, Humidity, Air Purity and Fresh Air.
The Aprilaire Thermostat Advantage
All Aprilaire thermostats are constructed with the latest technology and operate electronically (digitally). Unlike mechanical thermostats, a thermostat from Aprilaire is mercury-free and provides you pinpoint accuracy and control of single-stage or multi-stage forced air, heat pump or hydronic HVAC systems.
We offer a line of thermostat solutions and controllers that provide a range of comfort solutions:
Aprilaire WiFi Thermostat: includes exclusive IAQ Control features to easily control all aspects of Indoor Air Quality
Comprehensive: Control all aspects of your IAQ—temperature, humidity, fresh air and air purity—with the programmable touchscreen interface on our highly intuitive Wi-Fi Thermostats with IAQ Control.
Specific: Address select air quality issues with multiple Aprilaire thermostats that offer convenient functionality and features at a more modest price point.
Basic: Perform basic functions using a quality, digital touchscreen on our programmable and non-programmable single-function models.
Specialty: Gain total control over temperature, lighting, audio, video, security systems and more with our thermostats for special applications and installations.
Find the Right Aprilaire Thermostat for You
Aprilaire thermostat products and controllers include:
Each thermostat model is designed to help homeowners achieve the right level of comfort for their unique needs. Be sure to ask an Aprilaire Professional which solution is right for your home and your family. Find a professional near you today.
Aprilaire Offers a Full Range of Indoor Air Quality Solutions
Aprilaire has been delivering Healthy Home Solutions since 1954. Our products work with most heating and cooling equipment. Plus, we partner industry-leading contractors, so you get the most comprehensive line of solutions available today.