Aprilaire whole-home dehumidifiers automatically extract just the right amount of moisture from the air to continually maintain optimal indoor relative humidity.
Once installed, you never have to worry about the problems that result from excess humidity again. Just sit back, relax and enjoy a healthier, more comfortable home.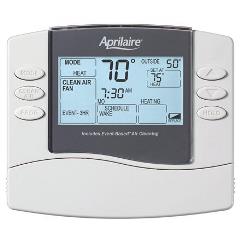 You can control your comfort level with a variety of control options, allowing you to modify the automatic settings based on your personal preferences.

Digital Control

Mounted conveniently in your living space, the control displays the current level of humidity in your home and indicates when the unit is running. If you wish, you can simply adjust the settings to change the humidity leve

WiFi Thermostats with IAQ Control

Aprilaire WiFi Thermostats with IAQ Control put a Healthy Home in the palm of your hand. Our full line of WiFi thermostats and the Aprilaire WiFi app provide complete control of temperature, humidity, air purity and air freshness; anytime, anywhere. Control excess humidity in your home with ease. The app also makes scheduling and controlling multiple thermostats and locations (lake house, cabin, etc.) simpler than ever.