Here's Why Air Quality Matters During Hurricane Season
3 minute read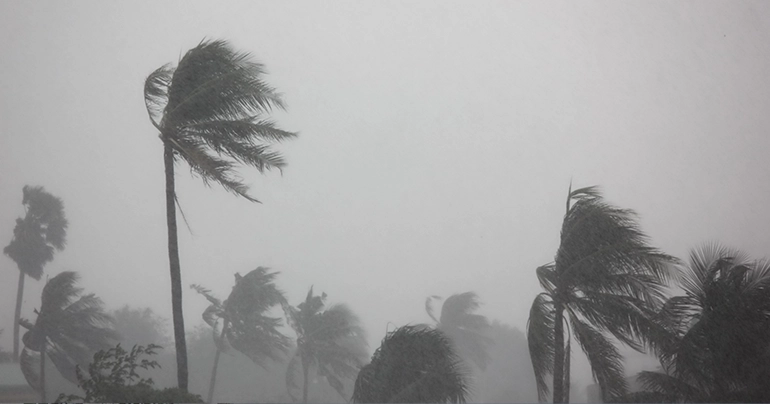 As hurricane season grows longer, these powerful storms are likely to become even more detrimental to our homes and our air quality. The culprit? Climate change.
One study reveals that the effects of climate change are causing hurricanes to begin as early as May—a trend U.S. residents should prepare for earlier than they normally would.
"The thing that controls the start of hurricane season, we found, is sea surface temperature," said Ryan Truchelut, Chief Meteorologist of private weather service WeatherTiger and lead author of the study. "It's basically when do the sea surface temperatures get warm enough to sustain convection. That threshold is being hit earlier every year."
Hurricane Season's Impact on Air Quality
In addition to the immediate physical dangers of high winds, storm surges, excess rainfall, and flooding, hurricanes can also impact Indoor Air Quality.
In fact, according to the American Lung Association, "During and after a hurricane, you are at risk of coming into contact with bacteria, mold, and toxic substances from damaged buildings that can make you sick."
To elaborate, when hurricanes make landfall, they can stir up pollutants and create hazardous conditions that can pose a threat to human health.
Additionally, floodwaters can cause toxic substances such as chemicals, sewage, and waste to be released into the air. This can result in respiratory problems and other health issues for people who are exposed to polluted air.
Hurricanes can also cause power outages that lead to the release of dangerous fumes from generators, as people may use them in close proximity to each other. And with potentially broken windows, those fumes can be deadly.
Furthermore, hurricanes can also have long-lasting effects on air quality. When a hurricane hits an area, it can cause damage to homes, buildings, and infrastructure, which can release dust and other particles into the air. This can cause long-term air quality problems that can persist for months or even years after the storm has passed.
Indoor Air Quality and Hurricane Preparation
To protect human health during hurricane season and other extreme weather events, it's important to create a severe weather plan and take precautions to minimize exposure to pollutants. One of the best ways to do this is to stay indoors during and immediately after the storm, particularly if the air quality is poor.
People should also not use generators or other fuel-burning equipment indoors, as this can lead to the release of deadly carbon monoxide.
In addition to natural disaster preparation, it's important to be aware of the air quality conditions in your area during and after a hurricane. Local officials and health authorities may issue advisories or warnings about air quality hazards, and it's important to take these seriously and follow any recommended precautions.
Healthy Air and Water Damage Restoration
Because hurricanes can significantly impact air quality and human health, it's important to ensure your home is equipped with solutions that benefit your health and protect your home.
With the AprilAire Healthy Air System®, you can gain peace of mind knowing your home has fresh air ventilation, air filtration, humidity control, and more—perfectly suited to maintain Indoor Air Quality.
Plus, with AprilAire Dry Basement Solutions, you can prevent excess water damage and assess the need for whole-house dehumidification as well as additional water damage restoration solutions to prevent and protect your home from mold.
Bring Healthy Air into your home before, during, and after hurricane season. Find a Pro in your area to get started today.
Find an AprilAire Healthy Air Professional
Start your Healthy Air journey with one of the 4,500 pros nationwide so you can fill your home with fresh, clean air.