Finishing Your Basement – Things to Consider
2 minute read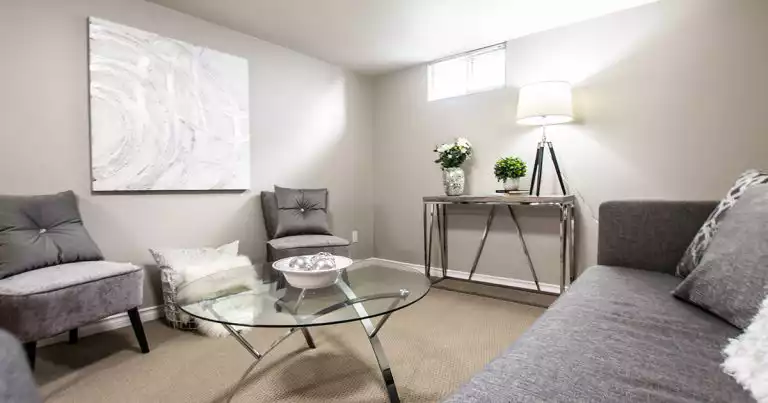 Click play to listen to the Finishing Your Basement – Things to Consider article. 
A finished basement can add value to your home, create extra living space for a growing family, and let you earn extra income by renting it out as an apartment.
When you've decided to take on the exciting renovation project of finishing your lower level, you'll want to keep a few things in mind to guarantee a space that's comfortable and healthy for years to come.
Air-Tight Seal
The basement is the lowest point in your home, meaning it's the most at risk for pooling and settling moisture. If your basement and/or crawl space are underground, make sure you have proper encapsulation and waterproofing to keep additional moisture from seeping in.
Remove Mold
If it's been a few years since you've maintained your basement space, there may be mold present that you'll need to remove before starting renovations. You may need to hire a mold removal specialist, or you can tackle the task yourself if the mold isn't overwhelming.
Identify Pests and Mites
Termites and mites can wreak havoc on your home and its foundation, but moisture control can make all the difference. Due to their relatively thin layer of skin, mites cannot survive in 50 percent humidity. They need hot and moist air, so proper humidity control with an AprilAire dehumidifier makes it nearly impossible for pests to survive.
Plumbing and Wiring
If the basement space isn't already wired for plumbing and electricity, you'll need a trained professional to inspect the area and install the new hardware safely. It's also likely that you'll need a permit to complete this work, so check with local guidelines before starting the project.
Insulate
The basement can be one of the largest sources of energy loss and increased utility bills in your home. It's crucial that you insulate doors in those spaces, whether they enter directly into your home or connect to the outside. Any pipes and ducts should be insulated as well. This will help regulate the air temperature in the basement, which can help preserve a consistent environment throughout your home.
Dehumidification
The air in your basement can circulate throughout the entire home. This becomes an issue when the basement air is excessively humid and potentially carrying mold and mildew. An AprilAire dehumidifier can keep air in the optimal humidity range of 40-60% to prevent the spread of unhealthy air. Consistent humidity control can also save energy usage and prevent overtaxing of your heating and cooling systems.
Exterior Pressures
Underground basements feel pressure from the ground on all sides, which can lead to cracks and holes that let in moisture and pests. If excess moisture is a recurring problem, you may need to redirect downspouts or regrade the earth around your home to direct moisture away from the foundation.