The Right Tools Lead to the Right Solutions
Aprilaire has been delivering total comfort solutions for over 50 years and it all started with our whole-home humidifier. Since then we have continued to perfect Indoor Air Quality (IAQ) solutions and offer a full line of products to control relative humidity in the home. We partner with and offer training to a national network of HVAC contactors who understand how to provide whole-home humidity control to homeowners.

As a Wood Floor Retailer, you need the right set of tools to properly educate consumers on moisture control.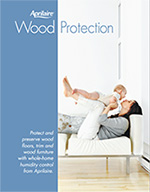 Here's how Aprilaire can help:
Provide educational consumer hardwood floor protection literature to explain the importance of humidity control in maintaining wood floors and protecting the manufacturer's warranty.


Connect you with our nationwide network of skilled HVAC contractors to help homeowners select the right humidification solution for each unique application.
Proper control of RH will keep customers satisfied, increase referrals and reduce call backs about damaged hardwood floors. It's time to elevate the conversation about moisture control and provide real solutions for your customers.
Connecting with an Apriliare dealer near you is easy. For more information and to order copies of educational literature for your store:

We look forward to hearing from you.