Why Water Panels Need to be Changed Annually
2 minute read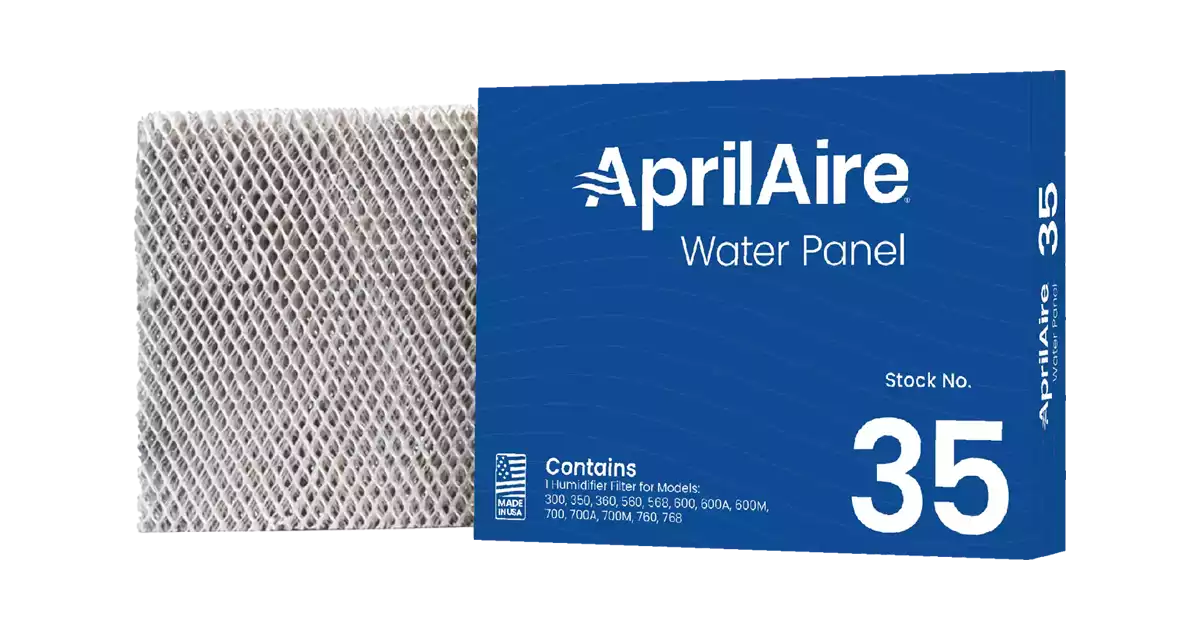 Water panels are the backbone of your AprilAire Humidifier and they must be replaced annually. The water panel is an aluminum mesh frame that helps your home maintain its proper humidity levels to help you and your family breathe clean, Healthy Air. See why water panels need to be changed annually.
According to the United States Environmental Protection Agency, indoor air can be up to five times more polluted than outdoor air. As each of us are spending more time inside, it's important to make sure that we are breathing clean, Healthy Air.
Why Water Panels Need to be Changed Annually
Over time, water panels can get clogged with particulates as air passes through the system. This can cause a myriad of problems in your home's HVAC system like putting more stress on the heating and air conditioning unit and making your humidifier work less efficiently, contributing to issues with your Indoor Air Quality.
Humidifiers are important to maintaining proper Indoor Air Quality. A humidifier reduces your proclivity for sore throats, nosebleeds, dry skin, and can play a role in increasing your energy savings. For every 4 percent of change in your relative humidity, you can change the temperature by one degree. For example, if your home's relative humidity levels are running at 14 percent and you increase your humidity to 38 percent for a difference of 24 percent, you could reduce your thermostat by 6 degrees. This can help reduce your energy costs along with creating a more comfortable living environment and healthier air.
It's Always Healthy Air Season
When life won't give you a breather, AprilAire can.

Depending on your region, you may have different humidification needs and there may be major swings in seasons or in your day-to-day. If you're in the latter category, a water panel is even more important to help you maintain those proper humidity levels and to ease the stress on your humidifier.
Humidification also plays an important role in the reduction of the proliferation of airborne viruses. We follow the recommendations of the American Society of Heating, Refrigerating, and Air-Conditioning Engineers who recommend keeping your home's humidity levels between 40-60 percent. Anything below or above that can cause major health problems whether it's a sore throat, asthma or allergy triggers, or black mold. Several academic articles have also researched the importance of humidifiers in reducing airborne viruses like influenza and the common cold.
Our Humidifiers Notify You When You Need to Change Your Water Panel
To do all of that, your humidifier requires a clean water panel. Replacing a water panel requires very little technical knowledge and can be replaced without the presence of a trained technician. There are also several videos on changing your water panel to help make the task less intimidating. We also have technical support on hand to help you too. Our humidifiers even come with a digital warning to let you know when you need to change your water panel.
You do not want to wait too long to replace your water panel so make sure to have one on hand so when your warning light does come on you're prepared to continue providing Healthy Humidity and clean air to both you and your home.