The Dangers of Black Mold Inside Your Home
3 minute read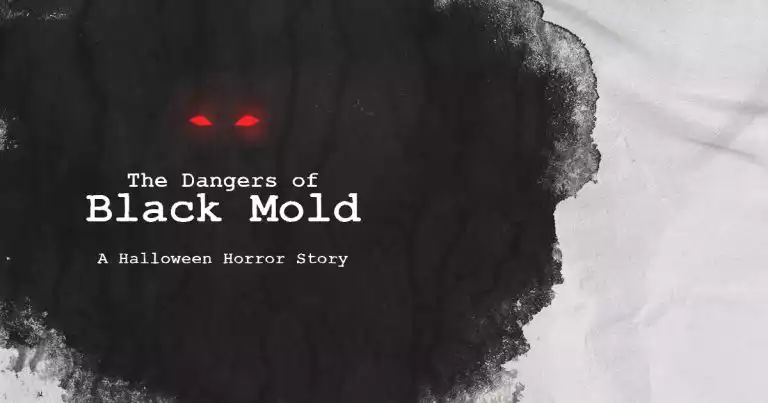 We all love a good spooky story, right?
Well, as long as it's not too scary.
And if we've got a calming cup of hot cocoa close by.
It also helps if the story is completely made up…
This fall, AprilAire presents a series of bone-chilling tales of a mysterious creature that you just might find lurking in your very own home.
This is:
The Case Of The Black Mold Inside Your Home
Tale #1 – Symptoms
Ahhh, fall has arrived. You take a step outside to greet the new day and you're met with crisp air and a warming sun on your face. The dewy grass adds a shimmering comfort to the shifting of seasons, as the colorful leaves drift down onto your lawn.
You're ready for a break from the summer heat. Calming visions dance through your head: hot apple cider, comfy scarves, afternoons of football, and weekends at pumpkin patches. Everything is exactly how it should be. You head back inside to continue your delightful day.
But then something changes. Something disrupts that new-season-sensation and a different, darker feeling starts to set in.
You can't see anything that's changed. You don't hear anything strange. But you feel it. Deep down you know it's there.
The feeling crawls slowly up the back of your neck. You close your eyes as you feel it get closer and closer, you know you can't avoid whatever it is that's ruining your perfect morning.
You sneeze. It's a big one. You probably woke up the kids.
But what caused it? Simple fall allergies?
Or something much, much darker?
Tale #2 – Seeking Out
The kids straggle out of bed, earlier than normal on a Saturday morning. (Probably because of that echoing sneeze.)
After a quick hug and covering weekend plans, you notice little Billy is rubbing his eyes. It'd be normal to work a little tiredness out of your eyes first thing in the morning, but it only seems to be getting worse for Billy.
He just can't stop itching his eyes.
Your mind goes into investigation mode. First the sneeze…and now the itchy eyes.
Something is in your house.
While the kids finish up their eggs and bacon, you head out on a mission, of sorts. You're no home expert, but you know a thing or two.
You check the bedrooms…nothing. Well, the kids' rooms desperately need cleaning, but a few piles of dirty clothes aren't ruining your fall.
You take a peek in the attic. Probably a bat or two flying around up there, which gets you even more in the fall spirit. They can stay for now.
Nothing in the living room. Nothing in the kitchen. The bathrooms seem to be normal.
Now you know what you have to do. You have to go into the deepest, darkest place of your home. The spot where unneeded blankets go to waste away. Where half-started projects rest, frozen in time.
This thing…whatever it is, must be in the basement.
Tale #3 – Vanquishing
You didn't think fall would start like this.
Here you are, slowly descending the steps into your cold, dark basement. On edge. Uncertain of what you'll find.
But you know you have to go there.
You can sense this is where all the problems are coming from. The sneezing. Billy's itchy eyes. That feeling of discomfort that's slowly pervading your home, your sanctuary.
You reach the bottom of the steps and flip on the lights. You're greeted by the familiar faces of stacked storage containers and that extra sofa for when Billy goes off to college.
But there's another thing. Something in the air. A smell that makes the hair on the back of your neck stand up. And, you guessed it, this thing makes you sneeze yet again.
You walk toward it, knowing you need to take it on directly if you're ever going to be free of the hideous stranglehold it has on your family and your home.
Then, as the smell gets stronger and stronger, you see it. You're face to face with this horrible creature, and it's just too much to bear.
The Black Mold seems to be dragging itself out of your crawl space, creeping closer and closer until you feel like you have to scream.
It's just another sneeze.
But you've had enough. You can't live like this.
You're calling in backup.
You go to AprilAire's Find A Pro database to seek out professional help for this monster that has infiltrated your home.
It's Always Healthy Air Season
When life won't give you a breather, AprilAire can.

You talk it out with a knowledgeable indoor air quality professional, who gives you the resources you need to rip the monstrous Black Mold out of its stronghold and return your home to a place of peace.
It's your favorite time of year, after all. You deserve to enjoy it in a healthy, happy, unhaunted home.