States Affected by Radon, Ranked
3 minute read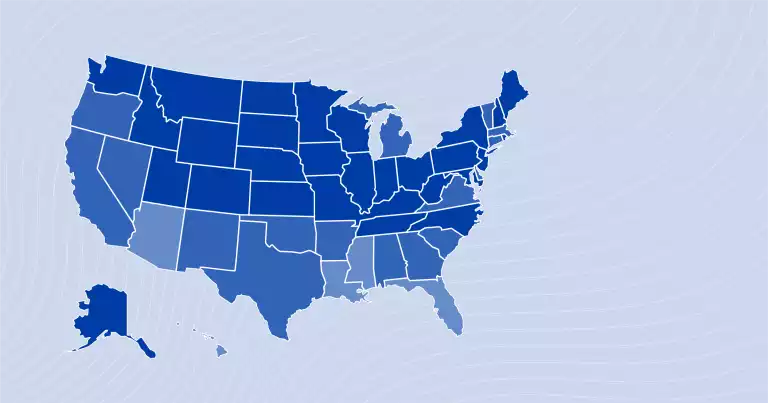 With all you do to keep your home happy and healthy, you may be overlooking one key factor that is harder to control: health issues related to location, such as radon. For instance, did you know more than 30 states have elevated radon levels?
Radon is a radioactive gas that occurs when certain elements in soil, rocks, and water break down, often just below your home. It is colorless and odorless and can enter through cracks and holes in the foundation, especially in the basement. Breathing in radon can be damaging to your health over time, as it is the #1 cause of lung cancer in nonsmokers.
Radon is measured by its rate of decay, expressed as pCi/L (picocuries per liter). According to the Environmental Protection Agency (EPA), levels above 4 pCi/L or higher are considered hazardous, but any amount can still pose a risk. We want to highlight, though, that no matter which state you call home, radon testing should be an annual task. Monitoring radon levels each year can help you stay ahead of possible issues in your home, no matter your location.
Below are the top five states with the greatest radon levels based on data from several sources.
1. Alaska: 10.7 pCi/L
Because radon is emitted from material like rock, soil, and water, Alaska's glaciers, crisp waters, and fertile volcanic soil make it the perfect breeding ground for radon. While it is not heavily populated, it is still crucial for all residents to stay up to date on radon inspections in their homes.
2. South Dakota: 9.6 pCi/L
Nestled in the northern Midwest and scattered with mountain ranges, South Dakota is obviously not heavily populated and is geographically the perfect spot for rock and soil decay, not surprisingly leading to a high concentration of radon.
3. Pennsylvania: 8.6 pCi/L
While Pennsylvania doesn't lead the nation in radon levels, approximately 40% of homes in the state have radon levels above the EPA's action guideline of 4 pCi/L.
4. Ohio: 7.8 pCi/L
Ohio is home to a geological formation called the Ohio Shale, which contributes large quantities of both uranium and radium to Ohio's soil, both of which continuously break down and release radon gas.
5. Washington: 7.5 pCi/L
Because elements in water and ice can break down and release radon gas, areas populated by glaciers and other ice formations can cause high radon levels. Washington is home to the most glaciers of any state in the continental U.S. and over 1,000 dams, which contribute to its high ranking on this list.
The State of Your Air
We're shining a light on the link between local weather and air quality.
See how your home state measures up! Below are the rest of the states ranked from highest to lowest levels of radon. However, it's important to note that some states may only appear to have lower radon levels because of insufficient testing data. It's always a good idea to test for radon regardless of your state average.
Kentucky: 7.4 pCi/L
Montana: 7.4 pCi/L
Idaho: 7.3 pCi/L
Colorado: 6.8 pCi/L
Iowa & West Virginia: 6.1 pCi/L
North Dakota: 6 pCi/L
Maine: 5.9 pCi/L
Wisconsin: 5.7 pCi/L
New Hampshire: 5.6 pCi/L
Maryland: 5.4 pCi/L
Illinois: 5.3 pCi/L
Nebraska: 5.2 pCi/L
Wyoming: 5 pCi/L
Kansas: 4.9 pCi/L
Tennessee: 4.8 pCi/L
Indiana: 4.7 pCi/L
Minnesota: 4.6 pCi/L
Utah: 4.4 pCi/L
New Jersey: 4.4 pCi/L
Rhode Island: 4.3 pCi/L
Missouri: 4.3 pCi/L
New York: 4.2 pCi/L
North Carolina: 4 pCi/L
New Mexico: 3.9 pCi/L
Massachusetts: 3.9 pCi/L
Alabama: 3.9 pCi/L
Vermont: 3.7 pCi/L
Virginia: 3.6 pCi/L
Michigan: 3.5 pCi/L
Nevada: 3.4 pCi/L
Connecticut: 3.4 pCi/L
Oregon: 3.1 pCi/L
Oklahoma: 2.5 pCi/L
Arkansas: 2.5 pCi/L
South Carolina: 2.4 pCi/L
Delaware: 2.4 pCi/L
Georgia: 2.3 pCi/L
California: 2.3 pCi/L
Texas: 2.1 pCi/L
Arizona: 1.9 pCi/L
Florida: 1.8 pCi/L
Mississippi: 1.2 pCi/L
Louisiana: 1.1 pCi/L
Hawaii: 0 pCi/L
What's the State of Your Air?
Some states rank higher than others, but the fact is, no matter where you live, radon should be on your radar. While the EPA recommends annual testing if you do not have an active radon system and every other year if your home has an active radon system, we always recommend testing once per year to monitor radon levels. Visit our website to order your AprilAire Short-Term Radon Test Kit for fast, easy, and reliable radon testing and connect with an AprilAire Healthy Air Professional if mitigation solutions are needed.