Preparing for Cold Weather: Home Advice and HVAC Maintenance Tips From an AprilAire Healthy Air Hero
4 minute read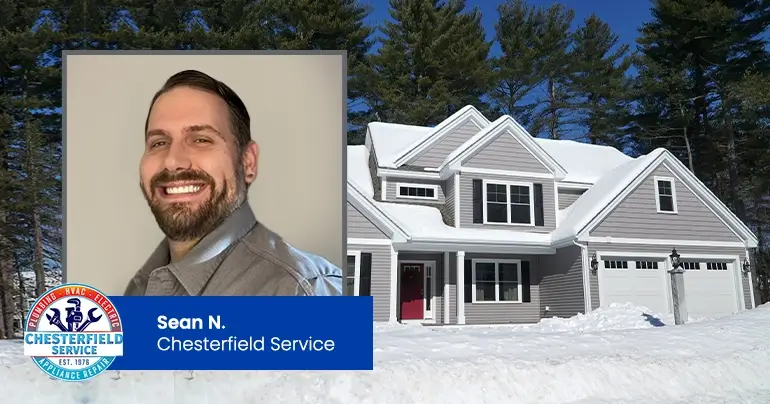 Are you prepared to tackle the arid and chilly weather of the winter season? Protect your home and family before these seasonal threats roll in!
There are several pieces of home advice you can follow, including critical HVAC maintenance tips and upgrades to HVAC services, to safeguard your Healthy Home.
Where should you start? Our very own AprilAire Healthy Air Hero, Sean N. of Chesterfield Service in Chesterfield, MO, answers your top winter HVAC maintenance questions, shares valuable home advice, and more!
Get to Know Sean N. and Chesterfield Service
As trusted AprilAire Pros, the HVAC maintenance experts of Chesterfield Service are adept at addressing the diverse requirements of their customers, providing HVAC services that promote year-round control and comfort.
Why HVAC Maintenance is Crucial in the Wintertime
"Regular HVAC maintenance is imperative for every HVAC system in existence," remarks Sean when asked to share some home advice to help homeowners improve their HVAC services. "These HVAC maintenance routines guarantee that your investment in comfort operates with maximum efficiency, effectiveness, and safety. By confirming your HVAC services and their components are functioning at their best, your efficiency is preserved, while simultaneously thwarting breakdowns."
By following this important home advice and scheduling regular HVAC maintenance checks throughout the year, Sean explains, "maintenance is the antidote to potential airflow predicaments that can erode your system's efficiency and lifespan. [HVAC maintenance] ensures the proper operation of all safety mechanisms within your system. Neglect can risk your system's safety—if you neglect the care of your HVAC services, it might demand your attention at an inopportune time."
Home Advice to Help Improve Indoor Air Quality in Winter
In addition to staying on top of your HVAC services and HVAC maintenance needs, Sean recalls another valuable strategy homeowners should implement to enhance Indoor Air Quality: "Enlist a skilled expert to assess your home's humidity levels."
Find an AprilAire Healthy Air Professional
Start your Healthy Air journey with one of the 4,500 pros nationwide so you can fill your home with fresh, clean air.
"Regrettably, HVAC services and experts frequently disregard the importance of humidity control. Managing humidity within your home holds the potential to heighten home comfort and amplify system efficiency! In fact, every 4% increase in humidity equates to a 1-degree shift in perceived temperature against your skin."
By introducing moisture to a dry home environment with an AprilAire Whole-House Humidifier, "you can lower your system's setpoint while retaining the same level of comfort," remarks Sean. "In instances where your home sustains a comfortable temperature but struggles with humidity control, HVAC services, like enabling the humidifier to operate independently from heat calls, can help. Similarly, this approach can be implemented for dehumidifiers in the spring and summer seasons."
How HVAC Maintenance Can Help Balance Humidity Levels
"Routine HVAC maintenance," Sean begins, "provides insight into how effectively your system manages humidity levels in your home. Maintaining a humidity range of 40–60% is optimal, with 50% representing the ideal equilibrium. During an HVAC maintenance session, our Healthy Air Heroes can gauge humidity levels prior to, during, and post-cycle to devise a tailored solution to meet a home's specific requirements."
HVAC Maintenance Home Advice Can Vary by Region
Where you reside can impact what home advice you should and shouldn't follow. "The winter months bring varied weather to different regions," shares Sean. "Some areas encounter cold, damp conditions while others experience milder temperatures with dry air. Additionally, some regions employ distinct requirements regarding HVAC services and equipment, which all need regular inspection, cleaning, and adjustment."
"Fortunately, regardless of your location, there are solutions for these challenges. Despite differences in regions, all HVAC services share a common principle: The necessity for regular HVAC maintenance to prevent unwarranted breakdowns or component failures that can threaten your home and health."
When to Conduct HVAC Maintenance
Preparation is advised! Take it from Sean, who shares, "the sole instance when HVAC maintenance becomes a mistake is when you neglect it altogether. To proactively address any possible concerns, the optimal scheduling window is at the close of summer or onset of fall."
For those who've postponed regular HVAC services, "there's no fault in arranging HVAC maintenance during the heart of the winter. The crucial step is simply reaching out to schedule a visit to guarantee your system's health," assures Sean.
Bonus Home Advice: Cost-Effective HVAC Maintenance Tips
Sean knows that "investing in something that doesn't immediately showcase its advantages isn't the most enjoyable way to allocate funds. But your HVAC services are likely the most heavily utilized appliance within your household. Upkeeping your system ensures its inconspicuous operation, sparing you from discussing malfunctions or complete failures. In essence, HVAC maintenance keeps your system unobtrusively functioning, eliminating the need for conversations about improper performance and the like."
It's Always Healthy Air Season
There's a lot that goes into preparing your home for winter, but it's important to follow the home advice provided by our trusted AprilAire Healthy Air Heroes to ensure you're creating an optimal Healthy Home environment for everyone who lives there. With the advice provided by Sean of Chesterfield Service, it's no secret HVAC maintenance is a crucial piece of winter home advice to follow.
When winter conditions won't give you a breather, AprilAire can! Whether you enlist one of our experts in HVAC services to conduct HVAC maintenance, improve humidity control with AprilAire Whole-House Humidifiers, or use them to gain valuable home advice, there's peace of mind knowing that you're protected . . . and always breathing Healthy Air.
To start your path toward creating a Healthy Home environment that's safe from wintertime threats, take the first step and Find a Pro near you today.