What You Can Do to Keep Your Kids Safe in Returning to School
2 minute read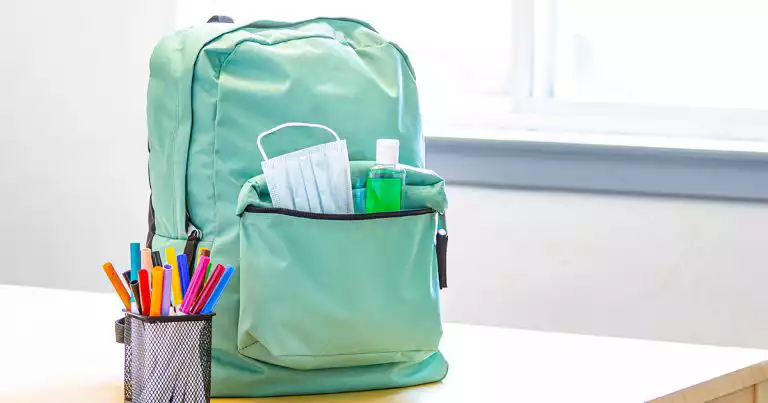 Click play to listen to What You Can Do to Keep Your Kids Safe in Returning to School.
With the 2021 school year fast approaching, what should parents and students prepare for when it comes to safely returning to the classroom?
While the 2020 school year was marked by several transitions between remote and in-person learning as COVID-19 infections fluctuated, most states are committed to in-person education this fall. Reopening schools to in-person learning is a priority for many individuals, while some will prefer to continue with remote learning for a variety of reasons. Crucial to both approaches is ensuring a safe environment for all. If your child will be back among their teachers and classmates full time, read on to learn about factors you can consider to keep them healthy and on track with their education.
Keep Your Kids Safe In Returning To School
Vaccinations
Vaccines are now approved for everyone 12 years and older. Make sure to talk with your doctor about the right decision for your child and their environment.
If your child is under 12 years old and unable to be vaccinated right now, note that most children who are infected with COVID-19 experience relatively mild symptoms, like runny noses, congestion, coughs, or fevers.
While few children require hospitalization to recover from COVID-19, they are capable of spreading the disease to other groups more likely to see serious symptoms like the elderly and the immunocompromised.
Most severe cases of COVID-19 infection are in unvaccinated people.
Masking
In a reversal of earlier guidance, the Centers for Disease Control and Prevention (CDC) now recommend that teachers, students, and support staff should wear masks for indoor learning, regardless of vaccination status. The group emphasizes that when teachers and students who are not fully vaccinated wear a mask, they are helping to protect themselves and those around them.
Mask mandates will vary from state to state, and from school district to school district. While you can't necessarily control what everyone does at your child's school, if you and your child would feel safer with them masked up, you can make sure they have a reliable supply of masks to use throughout the school day.
Additionally, the American Academy of Pediatrics (AAP) supports in-person learning and recommends masking for everyone over the age of 2, regardless of vaccination status.
School Guidelines
State and school officials will likely have the final say on what the in-person learning environment looks like. As a parent, you can stay informed on what goes into their decision-making process, and decide what's best for your child. Every school district should be taking into account these factors when setting guidelines and mandates:
The AAP also urges school administrators to analyze the CDC's guidelines for building ventilation, testing, quarantining, cleaning, and disinfection.