May is Clean Air Month and AprilAire Joins American Lung Association to Focus on Healthy Indoor Air Quality for Overall Health
4 minute read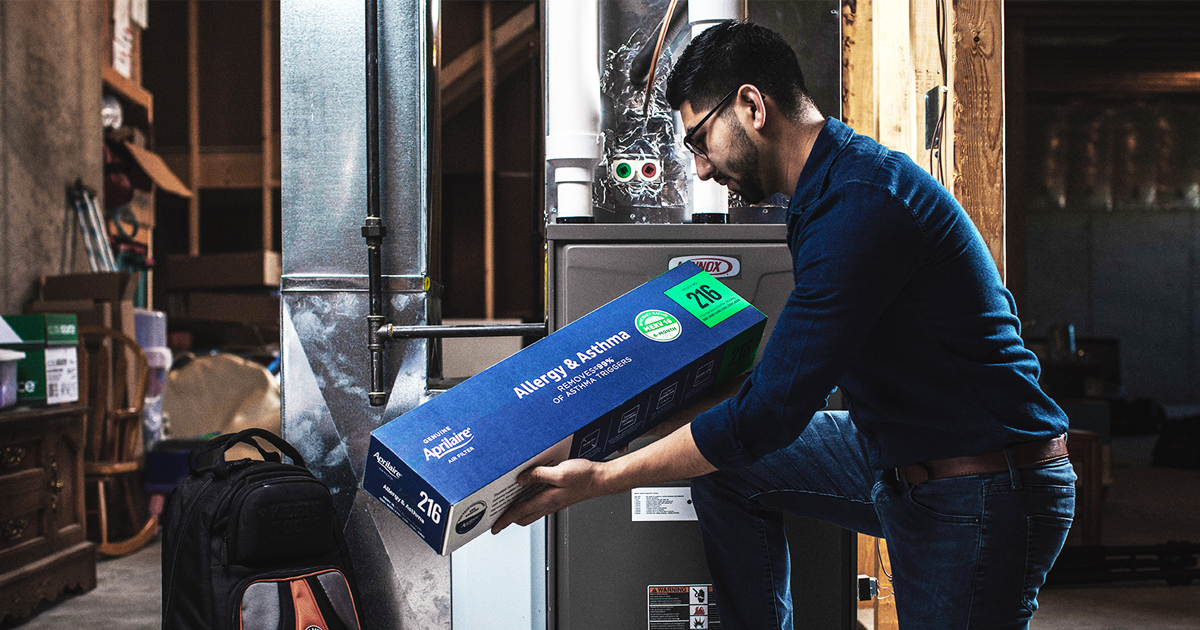 AprilAire offers spring cleaning tips, suggestions for America's 50mm allergy and asthma sufferers, and an indoor air quality checklist.
MADISON, Wis. (April 20, 2021) – May is Clean Air Month and AprilAire, the nationwide leader in indoor air quality products and solutions, offers spring cleaning tips and suggestions for allergy and asthma sufferers, as well as a checklist of benefits of healthy indoor air quality (IAQ) in the home. AprilAire is supporting the American Lung Association's (ALA) Fight for Clean Air Climb and is a National Proud Partner of the ALA, being the preferred resource for air filters with the AprilAire Healthy Air System® leading the way.
May is not only Clean Air Month, but also National Asthma and Allergy Awareness Month and several special days are commemorated. Air Quality Awareness Week is May 3 through 7 and May 4 is World Asthma Day. May 22 marks ALA's Fight for Clean Air (FFCA) event in Milwaukee in which AprilAire employees will participate in the stair climbing fundraiser both virtually and in person at Milwaukee's American Family Field, the home of the Milwaukee Brewers MLB team.
"The fight for clean air is perfectly aligned with AprilAire's priorities," Dale Philippi, president of AprilAire and newly appointed CEO of AprilAire's parent company, Research Products Corporation. "Yes, May is Clean Air Month but here at AprilAire that's our number one goal 365 days a year and has been since our founding in 1954. We're thrilled to partner again with ALA and, beyond that, we want to educate all Americans about how to be healthy and improve indoor air quality in their homes."
Data in an October 2020 survey by Carbon Lighthouse showed 91% of consumer respondents believe indoor air quality was key to preventing the spread of COVID-19. According to the EPA, people spend 90% of their time indoors yet that indoor air can be five times more polluted that outside. Applying the 79-70-50 rule (the average person lives to be 79 years old; of those 79 years, 70 of them are spent indoors; of those 70 years indoors, 50 of them are spent in your own home), it's clear that indoor air quality is vital for healthy living.
Healthy Indoor Air Quality Checklist
AprilAire emphasizes that time is now to care about clean air and offers a checklist about the benefits of healthy indoor air quality. With air quality solutions for the entire house, the company especially highlights its smart, all-in-one, whole house fresh air ventilation/air filtration/humidity control innovation. AprilAire's Healthy Air System®, introduced last fall, simultaneously maintains the home's humidity level for a host of benefits, including helping to prevent the proliferation of viruses by introducing healthy, fresh air while helping to remove airborne dust, allergens, bacteria and viruses which can battle various health conditions.
Healthy indoor air can reduce illness by removing airborne contaminants with a MERV 16 filter for at least 95% efficiency on 0.3 microns. This healthier air can eliminate pests that thrive in homes with dust, dirt and mold, can alleviate allergies and foster improved sleep, can improve energy efficiency by managing humidity, and can increase a home's overall value.
50 Million Americans Suffer with Allergies
According to the Asthma and Allergy Foundation of America (AAFA), more than 50 million Americans live with nasal allergies and about half of them have seasonal pollen allergies. Since May marks not only National Asthma and Allergy Awareness but World Asthma Day on May 4, AprilAire offers an overview of the spring forecast for weather-related in a blog post. The information includes the top 10 cities nationwide predicted by the AAFA to have the worst conditions for allergy sufferers in 2021: Richmond, Va.; Scranton, Pa.; Springfield, Mass.; Hartford, Conn.; McAllen, Texas; New Haven, Conn.; San Antonio, Texas; Bridgeport, Conn.; Oklahoma City, Okla.; and Pittsburgh, Pa.
23 Green Spring Cleaning Tips and Hacks
Beyond healthy IAQ systems to improve overall health and wellness, there is just no way around good old spring cleaning that requires a little elbow grease. AprilAire has compiled 23 green cleaning tips and hacks to lighten the load in the kitchen, the bathroom, the laundry room and beyond.
AprilAire's multiple homemade, natural cleaning hacks include using coconut oil to polish stainless steel, applying a baking soda/vinegar combination to clean drains, and rubbing half a lemon on faucets to remove water spots. Decorative throw pillows add charm and personality to living areas but are often a breeding ground for dust mites; clean them effectively and non-toxically by throwing them in the dryer on the high setting. A top tip includes using equal amounts of vinegar and water on a microfiber cloth to naturally clean windows and glass, but clean on an overcast day to prevent sun streaks.
About AprilAire
AprilAire is on a mission to enhance people's health by improving the air in their homes. Headquartered in Madison, Wis. since 1954, AprilAire has been creating and delivering the best solutions to manage air purity, humidity, temperature, and fresh air supply for homes in all types of environments. The company has an unparalleled reputation as the brand of choice among tens of thousands of professional contractors and the millions of homeowners who use their products every day. In the midst of a global pandemic, it has never been more important to care about Healthy Air. To learn more about creating Healthy Air in your home and find a healthy air professional in your area, call 1-800-334-6011 or visit www.aprilaire.com.