How Smart Thermostats Create a Healthy Home Environment
2 minute read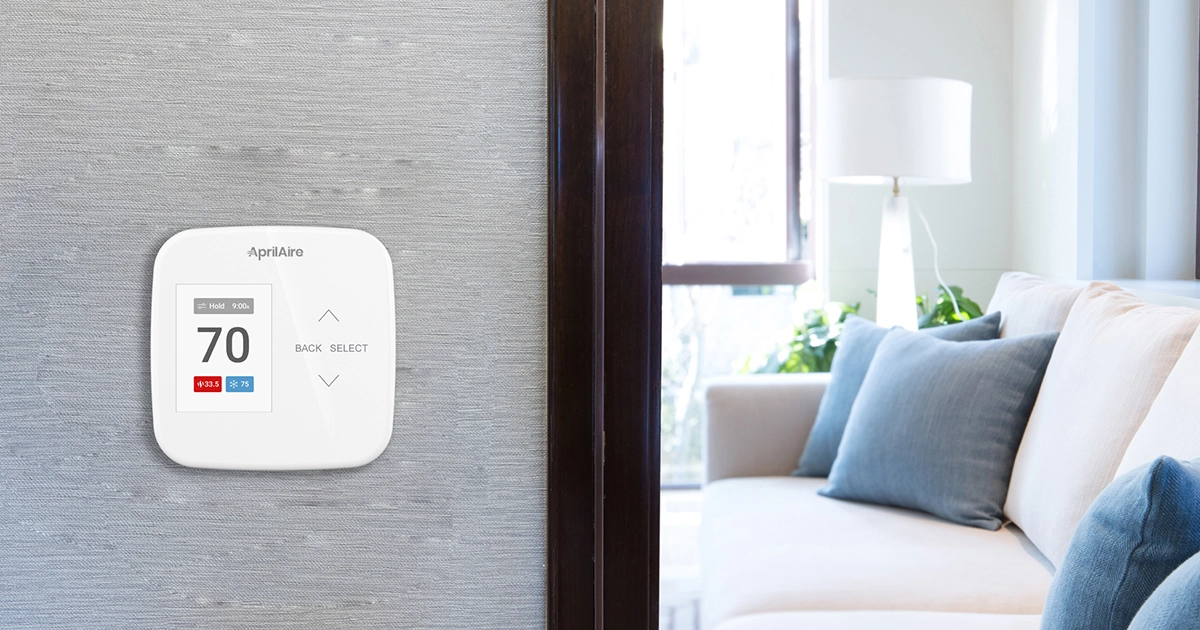 Creating a Healthy Air environment in your home is great for your family, and can save you money on energy costs over time. One way to make the process even more beneficial is to automate the systems that control your temperature, humidity level, and air quality.
AprilAire Wi-Fi thermostats are designed with your health and convenience in mind, pairing with your AprilAire whole-house solutions and the AprilAire Healthy Air App to deliver simple, round-the-clock control of your home's air.
Smart Thermostat Benefits
Control from Anywhere
No more wasting electricity while your home is empty. AprilAire Wi-Fi thermostats and the Healthy Air App give you consistent control over your heating and cooling systems, and all of your AprilAire whole-house solutions from anywhere you have a mobile connection.
The connected thermostat even lets you create temperature schedules, so you can turn down the heat at night to create an environment that's more conducive to restful sleep.
Balanced Humidity
Humidity levels fluctuate throughout the seasons and during large weather events. It's crucial to ensure a balanced humidity level between 40–60% in your home, with benefits for your health, finances, and property values.
AprilAire Wi-Fi thermostats let you set up your preferred humidity levels and automatically maintain those levels through every season.
Fresh Air Ventilation
Working with your AprilAire fresh air ventilation system, AprilAire Wi-Fi thermostats offer total control of the fresh air intake for your home. Whether you do it manually or set up an automatic schedule, the system will let you know when fresh air is pumped into your home, giving you peace of mind that your family is breathing Healthy Air.
Air Purification
Certain events can make the air in your home less than fresh. When doing things like cooking, using your fireplace, or kicking up dust while cleaning, you can protect your air with Event-Based™Air Cleaning. When paired with an AprilAire whole-house air purifier, this feature gives you a simple way to scrub pollutants and irritants from your home's air.
It's also a huge benefit for allergy and asthma sufferers. On days with a high pollen or other allergen count, you can schedule a cleaning cycle and enjoy Healthy Air indoors throughout the allergy season.
Check out all the options available for AprilAire thermostats, and see what will best fit your home and lifestyle.