HVAC Maintenance & Humidity with TR Miller Heating, Cooling & Plumbing
4 minute read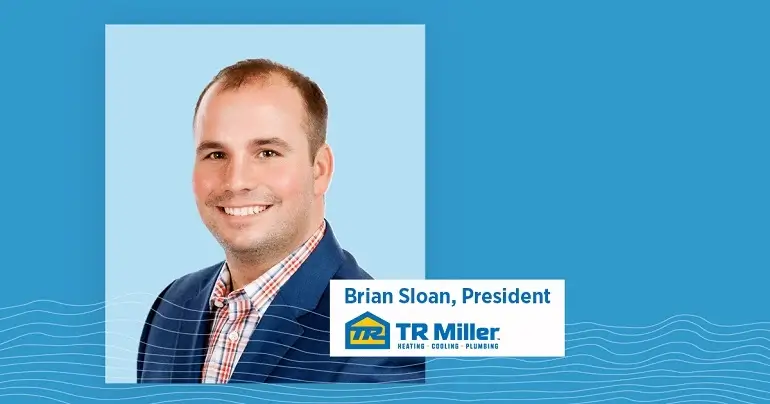 We all know how harsh winter air can be. While you may think your indoor air is ready to keep you safe in the coming season, do you know if your humidity is properly taken care of? We talked to Brian Sloan, president of TR Miller Heating, Cooling & Plumbing, to get the facts and shed some light on the benefits of Healthy Humidity with AprilAire whole-house humidifiers for your home and HVAC maintenance.
Thank you for talking to us, Brian. Can you start by telling us about TR Miller? Where in the U.S. do you provide service? How long have you been in business, and when did you start working with AprilAire?
"We are a family-owned and operated company located in the southwest suburbs of Chicago in Plainfield, IL. TR Miller focuses on home services in heating, cooling, and plumbing. I'm the president here at TR Miller and we've been partnered with AprilAire since 2009 when my dad founded the company.
We really focus on getting to know our customers and their needs. Once we have a good understanding of what our customers are looking for, we provide solutions customized for them."
Winter is quickly approaching. While many homeowners want to prepare by keeping their homes warm and comfortable, they may not think so much about humidity. Can you explain the importance of balanced humidity in the home?
"Keeping year-round balanced humidity in your home is key to both your health and your home's health. As the season transitions to winter, our customers start to run their furnaces. As they do this, it starts to dry the house out. This is why we love the AprilAire whole-house humidifier. The automatic control allows the homeowner to 'set it and forget it.' Once it's set to the desired relative humidity, the humidifier keeps both the customer and the home healthy."
At AprilAire, we recommend that humidity in the home is kept between 40–60% year-round. How would you define Healthy Humidity and why is it important for human health and home protection?
"From a measurable sense, Healthy Humidity is between 40% and 60%. If your humidity is too low, you'll be more prone to sickness, your skin will be dry, and your house's wood flooring and furniture will be more likely to crack from drying out. On the other hand, if your home has too much humidity you might start to see bacteria grow and condensation build up on your windows."
It's Always Healthy Air Season
When life won't give you a breather, AprilAire can.

Lots of customers have questions about HVAC Maintenance. Can you talk about what proper upkeep should look like and how customers can get ahead of it?
"Proper upkeep really starts at the installation. You want to make sure your furnace, air conditioner, and Indoor Air Quality products are installed correctly. After that, manufacturers recommend having your HVAC system checked annually. At TR Miller, we actually offer a membership plan where we come out twice a year and maintain our customers' furnace and air conditioning system. We call our maintenance plan members to schedule their appointments to make sure they're never forgotten.
Maintenance is about inspecting the equipment to make sure it's working correctly, performing preventative repairs and cleanings, and most importantly making sure the filters are changed. A lot of our customers upgrade to the AprilAire 1210 Air Filter which is great because it's low maintenance and has a longer life span than a 1" filter. The investment in your equipment and the air you breathe is significant, which is why it's important to stay on top of it."
Ignoring your HVAC Maintenance can have consequences on the home and the wallet. What is the true cost of not upgrading to a reliable system and maintaining Healthy Air indoors?
"Most customers try to get 20+ years out of their equipment. Is it possible? Sometimes. However, it's all the hidden costs they're missing. Heating, cooling, and air quality products have come a long way in the last 10 years. By not upgrading your equipment you start to see recurring high repair bills, increase in energy consumption, and a lack of proper Indoor Air Quality.
Nowadays, when you upgrade, you are both dodging increasing repair bills and saving money on monthly energy costs. Also, there are some amazing add-on products out there to make your home more comfortable. You have everything from ultra-violet systems for bacteria and mold, humidification products, and air filtration solutions. There are a lot of great new innovations to make your home cozier."
Lastly, do you have any tips for new homeowners who may not know how to care for their indoor air?
"One tip I have for new homeowners would be to focus on getting comfortable in your home. I'd first have the furnace and air conditioner inspected and make sure you're all set for the hot summers and the cold winters in the first year or two. You want to make sure there are no unexpected repairs. Not every home inspector specializes in furnaces and air conditioners and can miss something that a trained technician would notice.
The second thing I would do is wait 6–12 months after the inspection and start to write down things you notice in your home. Are there hot or cold spots? Is it too dry in the winter, or too humid in the summer? After about 6 months, if you notice anything you want to address, talk to the technician at your next scheduled inspection. See what solutions their company offers, and if you see a solution that makes sense, proceed with it."
Make Healthy Humidity a Priority
Healthy Humidity plays a key role in overall air quality, personal wellness, and the protection of your home. Making sure your HVAC system is in good shape is the first step in maintaining a healthy indoor environment. Take it from the experts and get the facts. Are you ready to take the next step and learn more about the benefits of Healthy Humidity with AprilAire humidifiers in your home this winter? One of AprilAire's Healthy Air Heroes can help! Find a certified AprilAire Healthy Air Professional in your area today!