Five States at Risk of Smoke Inhalation During Wildfire Season, Ranked
4 minute read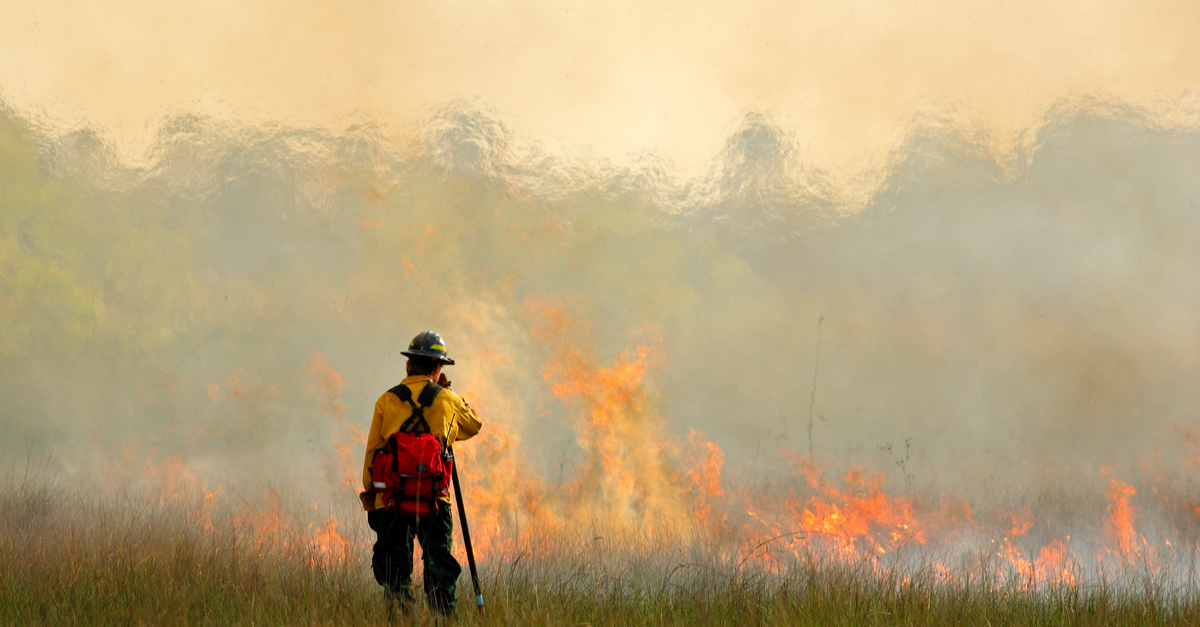 As we continue monitoring the lasting impact of climate change on our planet, smoke inhalation during wildfire season and other weather-related health hazards are still the biggest threats to our air quality nationwide, with the western U.S. disproportionally more at risk than other regions.
Behind Wildfire Season: Why Our Nation's Wildfire Flame Continues to Ignite
Known for their high temperatures and drier conditions, western U.S. states are prone to lengthy wildfire seasons, whether man-made or natural. With today's climate concerns causing burns to last longer than ever before, wildfires are considered a major contributor to the rising number of days (and places) where unhealthy levels of particle pollution (PM.2.5) were reported.
Moreover, the American Lung Association found that wildfires increase the severity of air pollution, heightening the chances of developing health symptoms from smoke inhalation and ozone exposure. In June 2023, wildfires from Canada led to severe air pollution nationwide, forcing unsuspecting states like New York and New Jersey to report "purple" or "maroon" level days on the Air Quality Index (AQI). Here, purple is used to describe air that's 'very unhealthy,' while maroon describes 'hazardous' or the worst air quality possible.
And so, as our climate worsens, the same is true for wildfire season. The cycle continues.
Top Five States Most Affected by Wildfires, Ranked
So, what is your risk? Let's evaluate. Below, we rank the top five states, from least to greatest, most affected by wildfires and their residual health threats each year.
5. Oregon
Although Oregon ranks in the top five, the state experienced some relief during the 2022 wildfire season (reporting 806 fires and around 500,000 acres burned total) after years of air quality issues caused by lingering smoke and pollutants from previous, heavier wildfire seasons.
What's the forecast currently? Click here for up-to-date information on Oregon's wildfire situation.
4. Idaho
Ranked fourth on our top five list, Idaho residents were lucky enough to experience a more tame wildfire season in 2022 than that of prior seasons. Ultimately, the state experienced 349 fires with just above 400,000 acres burned. This positive report fell significantly below the predicted 10-year average of 600,000 acres burned annually.
How does the current wildfire season match up? Click here for up-to-date information on Idaho's fires.
3. Texas
Ranking in the middle at number three, Texas' 2022 wildfire season went a little differently than years prior. With more than 12,000 fires and over 650,000 acres burned, Texas experienced its 'worst year in over a decade.'
Click here to see how Texas is fairing this wildfire season.
2. New Mexico
Despite ranking at number two, New Mexico's 2022 wildfire season broke records with over 900,000 total acres burned. If this trend continues, the state is predicted to experience many more record-breaking seasons going forward. In fact, the U.S. Forest Service and its partners marked New Mexico more likely to experience wildfires than 73% of states nationwide.
Click here to see if New Mexico has another record-breaking season.
1. Alaska
It's true: Alaska earns the #1 ranking, primarily due to their limited road system that creates unique challenges during wildfire season. With poor management and lacking suppression tactics, the 2022 wildfire season recorded 530 fires that burned across more than 3 million acres.
Click here for news about Alaska's wildfire season.
Traveling Pollutants Can Put Neighboring Regions at Risk, Too
Even if your state didn't make the above list, residing in a neighboring region even thousands of miles away can still put you at risk of wildfire-related health concerns. Polluted air travels, carrying unwanted airborne contaminants and dangerous oxidants like ozone that could impact your lung health.
Not only is air pollution today's leading global health crisis, per the World Health Organization, the EPA releases literature yearly to warn us of the negative, long-lasting adverse effects we can develop as a result of exposure to air pollution. But by tracking your AQI and staying up-to-date on wildfire threats near you, you can protect yourself from long-term lung issues like asthma and lung disease and more dangers associated with poor air quality and wildfire smoke inhalation.
The Health Impacts of Smoke Inhalation
Since wildfire smoke consists of a mix of gases and chemicals, smoke inhalation can lead to several unwanted health symptoms, including:
Coughing

 

Shortness of breath and trouble breathing
Irritated sinuses
Asthma attacks
Headaches
For people with preexisting health conditions, you may experience worsening illness or symptoms following wildfire smoke inhalation.
Staying Protected
Finding respite from wildfires and smog-filled air can be troublesome. While sheltering indoors and closing windows are recommended, outdoor air pollutants can seep into your home through cracks or gaps in windows or door frames. Thus, putting your Indoor Air Quality at risk.
Protecting your home protects your health! Investing in a smoke air purifier can help reduce and eliminate unwanted airborne contaminants from your home's air during wildfire season and beyond. AprilAire Whole-House Air Filtration Solutions, like a Whole-House Air Purifier paired with a MERV 16 Air Filter, capture particles that contribute to poor Indoor Air Quality.
Minimum Efficiency Reporting Value, or MERV, is a system designed by the American Society of Heating, Refrigerating, and Air-Conditioning Engineers (ASHRAE) to rate the efficiency of air filters for home use. The higher the MERV rating, the better the filter is at capturing particles. With an AprilAire MERV 16 Air Filter, your smoke air purifier can capture up to 99%* of pollutants, including smoke, restoring your home with Healthy Air!
Plus, with WiFi-enabled thermostats, you have complete control over the air inside your home. We suggest using the AprilAire Healthy Air App to easily turn your ventilation system off during poor air quality events to ensure the air inside your home isn't affected!
It's Always Healthy Air Season
Wildfires continue to act as a major threat to our air quality. It's time we confront the challenges of climate change with sound solutions and positive reformations—starting with installing the necessary solutions to keep our home's air fresh, clean, and healthy.
When unpredictable weather events won't give you a breather, AprilAire can! With AprilAire Whole-House Air Filtration Solutions installed by a certified AprilAire Healthy Air Pro, there's peace of mind knowing that you're protected from the damages of smoke inhalation . . . and always breathing Healthy Air.
To start your path toward creating a Healthy Home environment that's safe from the elements, take the first step and Find a Pro near you today.
Find an AprilAire Healthy Air Professional
Start your Healthy Air journey with one of the 4,500 pros nationwide so you can fill your home with fresh, clean air.
*Contaminants removed based on air passing through the filtering system.