Tips From A Fire & Ice Heating and Air Conditioning Healthy Air Hero
4 minute read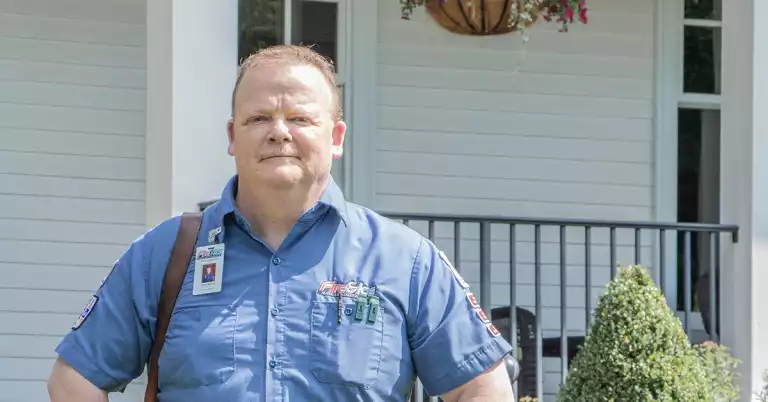 You may know the air inside your home plays a key role in your overall wellness. But how much do you know about the impact of humidity and maintaining the right balance? Fortunately, AprilAire Healthy Air Hero Scott Merritt of Fire & Ice Heating and Air Conditioning, Inc. is here to shed some light. From alleviating seasonal allergies to just breathing better, he discusses the unseen benefits of Healthy Humidity.
Interview with Healthy Air Hero Scott Merritt
---
Thank you for speaking with us, Scott. Can you start by telling us where in the U.S. Fire & Ice Heating and Air Conditioning, Inc. provides service? How long have you been in business, and how long have you been working with AprilAire?
"Fire & Ice operates in Central Ohio, in the greater Columbus, OH area. We've been in business for 17 years and, in that time, we've grown to become one of the city's largest HVAC contractors.
We partnered with AprilAire a handful of years ago because we identified their products as top-notch. It's been a beneficial partnership, and we truly believe we're providing top-of-the-line Indoor Air Quality solutions to our customers."
While most homeowners probably think about the temperature inside their homes, they may not be aware that humidity also plays a role in maintaining Healthy Air. How does Healthy Humidity impact a home?
"There are a number of homeowners who won't even consider the humidity of the home when talking about heating and cooling. And it's not their fault! There's a lack of education in this area, and if you're a new homeowner, you might be dealing with a system for the first time in your life. So a lot of what we do in our efforts is informational.
One of the primary functions of an air conditioner is to dehumidify the home, for example. But that's not usually how it's presented. So, the idea that a whole-home dehumidifier can aid your air conditioner isn't obvious until that knowledge is there."
Along with allergens, pollutants, and mold, humidity levels in the air you breathe can affect your overall wellness. Can you explain how Healthy Humidity impacts your health?
"The seasonal stuff is usually what we focus on, like allergies in the spring and summer and how proper humidity levels in the winter can reduce the risk of flu infections and other diseases (including coronavirus!). Almost everyone deals with those in some form. There really are a ton of unseen benefits.
I'll give you a very personal example: my mother has trouble breathing, particularly in the summer. I purchased a whole-home dehumidifier for her, and it's been the difference between her struggling to breathe at times and her home being the comfortable place for her. So it really can be life changing."
At AprilAire, we recommend that humidity in the home should be kept between 40-60%, which is optimal for human health and comfort. In your words, what is balanced humidity and why is it important?
"Most expert sources agree on that range, and our educational materials recommend at or near 50% as the optimal level. But to maintain that requires proactive management of your home's humidity. It won't simply hover there most of the time unless you're using humidity-controlling products to their maximum benefit."
It's important to maintain a balance when it comes to humidity. What are the causes of high humidity in one's home?
"There are probably too many to list, but homes with a basement will have higher humidity, and where you're located in the country also matters. Few people in Arizona may truly need a whole-home dehumidifier, for example, but everyone in Florida would benefit from one. And vice-versa for whole-home humidifiers. Here in Ohio, we get both humid and dry weather, so we usually recommend both.
Windows and insulation matter as well, of course. As HVAC experts, that's what we always try to look for, and a good HVAC system can usually make up for deficiencies in those other areas like old windows or a basement that's prone to moisture."
How do AprilAire whole-home dehumidifiers work to effectively combat high humidity?
"Here's an example: our General Manager here at Fire & Ice has a flooded basement, and we loaned her one of the AprilAire units we had here in the office. Twenty-four hours and dozens of gallons of collected water later, and she had a relatively dry basement again.
One of our sales representatives also installed an AprilAire whole-home dehumidifier to manage the heat on his second floor in the summer. His kids got used to sleeping downstairs during the hottest months, but now they can stay upstairs all year.
These stories are reflected in the feedback and testimonials of hundreds of our customers because these are common problems. Good humidity control is often the right answer."
Lastly, a homeowner may not be sure if they are maintaining the right humidity. When is the best time to address humidity in your home?
"Any HVAC company worth its salt should be willing to have that conversation with you without any charge. A lot of people bring up these questions when one of our technicians is at their home for a tune-up or other maintenance, so that's always a convenient time to inquire.
Even if you're not considering a new furnace, AC, or heat pump any time soon, though, there's no bad time to fix these issues in your home."
Make Healthy Humidity a Priority
Healthy Humidity plays a key role in overall air quality and personal wellness. Take it from the experts and get the facts. Are you ready to take the next step and learn more about the benefits of Healthy Humidity in your home? One of AprilAire's Healthy Air Heroes can help! Find a certified AprilAire Healthy Air Professional in your area today!
Find an AprilAire Healthy Air Professional
Start your Healthy Air journey with one of the 4,500 pros nationwide so you can fill your home with fresh, clean air.