AprilAire Air Purifiers and Air Filters Frequently Asked Questions
2 minute read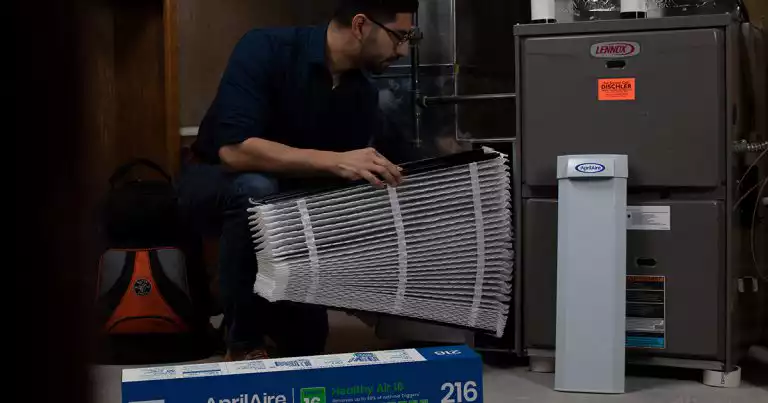 Listed below are our commonly asked AprilAire Air Purifiers and Air Filters FAQs.
If you need assistance or have additional questions, please reach out to our talented and knowledgeable technical support team.
Are there any other filters that will clean the air better than the Model 201 or Model 401 (MERV 10) in my Space Gard 2200 or 2400? Or are there any filters better than the Model 210/213/410/413 air filters?
The 210, 213, 410, and 413 filters are higher MERV than the 201 or 401 6" filters.
The 213 and 413 filters will clean the air better than the 201 and 401 filters.
The 216 and 416 filters are the highest MERV filters we have at MERV 16.
Where do I buy the filters (or the units) for my Air Purifier?
You can buy them from your installer and have them installed for you. You can also purchase them at AprilAire.com, Amazon, Supplyhouse, Sylvane.com, and more. We do not sell them at big box stores like The Home Depot and Lowe's.
How do I install the upgrade kit? Can I do it myself?
The upgrade kit is quick and easy to install. You can also watch the video to see how to do it.
What is MERV and how do I know which filter I should use? How often should I change my filters?
MERV is a Minimum Efficiency Reporting Value. The filter you choose is dependent on what you want to accomplish.
MERV 10, 11, and 13 filters should be changed annually; however, if you run your fan 24/7, check the filters at 6 months. All MERV 16, 213CBN, 413CBN, and 513CBN filters should be changed every 6 months. These are just recommendations. Some filters may need to be changed more often and others less often.
How do I know when my filter is dirty and should be changed?
The color of the filter will change from a bright white to various degrees of dark gray. If you see dirt starting to cake on the outside of the filter, it should be changed immediately. AprilAire air filters should typically be replaced every 6 to 12 months, saving you time and money compared to traditional 1-inch filters, which need to be replaced every 1 to 3 months.
How do I know which filter unit to buy for my HVAC system?
Your air purifier model comes with a certain model number and corresponding filter number. On the 4" filters, you will find the model number on the inside of the door and the filter number on the white sticker on the black rail.
What is the difference between the EAC 5000 and the other media filter units?
The Model 5000 is an electronic air cleaner. This unit uses both a media filter and ionizer wires to be a MERV 16 equivalent with a MERV 10 low resistance airflow filter.
Should I have the fan on my system on all the time?
Running your fan 24/7 will continuously clean your air providing maximum cleaning capability.
What is the filter made of?
6" filters are microglass and 4" filters are polypropylene.
Is the filter recyclable?
No, the filter is not recyclable. Please contact our technical support team to find out how to properly dispose of your air filter.