New Year's Resolutions: Achieve a Healthier Home This Year
2 minute read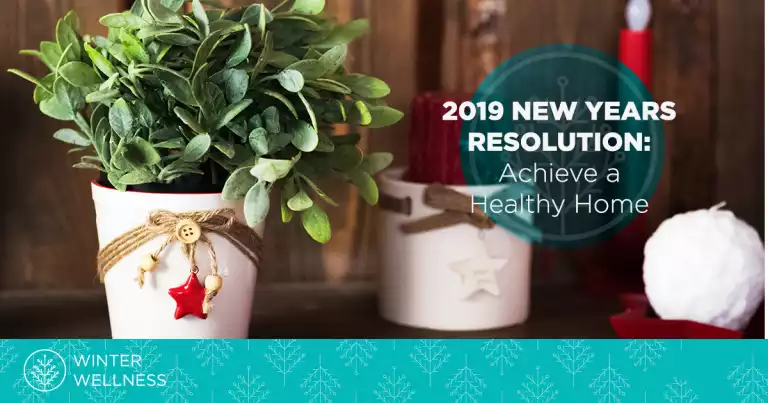 It's the same thing every year: you set goals to eat better, get more exercise, and maybe even get more sleep. You want a healthier you. But what if you could do something that improves your health and the health of your family? Make this the year to achieve a healthier home!
The air quality in your home—the place you spend more time than anywhere else—is a major factor when it comes to your overall health.
Five Ways to Achieve a Healthier Home:
1. Clear the clutter
This isn't something that can happen overnight, but resolving to clear out a different room every month is a great way to make this goal a reality.
Start with the most-used room in your house and work from there. Whether it's your kitchen, living room, or bedroom, rid it of anything that you don't love or use often.
Clutter is nothing more than a dust collector and excess dust means poor indoor air quality.
2. Add some greens
This might be one of the easiest resolutions to keep because it doesn't involve getting rid of anything.
Plants are amazing for improving indoor air quality. Adding some green plants to your home can not only help you breathe better, but it adds major style points, too.
To purify air, think one large plant for every 100 square feet in your home, or two smaller ones for the same effect.
3. Change the filters
Regularly cleaning or changing your air filters will make a huge difference for your indoor air quality.
Resolve to check your filters on the schedule that's recommended by the manufacturer. (AprilAire filters should be changed once a year, so with our filters, this resolution is pretty easy! )
4. Green Cleaning
Replacing your toxic, chemical-filled home cleaners with eco-friendly, non-toxic cleaning supplies will improve your air quality and save you money.
Get a group of friends together and make some of these DIY natural cleaning products.
Then you can use those products to keep your home clean throughout the year! This is a great activity to get kids involved with, and you don't have to worry about them being exposed to harmful chemicals.
5. Invest in an air purifier
Here's a shortcut to improved indoor air quality. Consider investing in an air purifier to help reduce airborne pollutants, allergens, odors, and more.
Having clean air in your home environment is vital to the health of your family. And air purifiers help reduce the concentration of air pollutants all year long, whether it's allergens in the spring or stuffy heated air in the winter.
Wherever your New Year's journey takes you, AprilAire is here to help with Healthy Home tips and professional support so you can create a better home environment for your family. Here's to a happy and healthy 2019!