Wi-Fi Thermostat App Puts You In Control of Your Indoor Air
2 minute read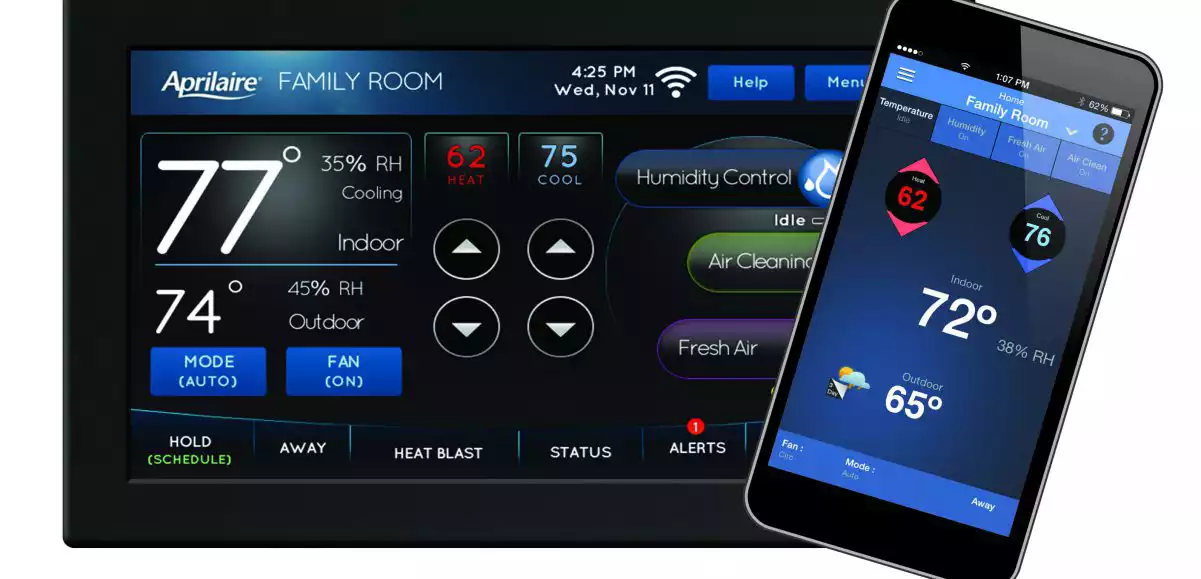 The AprilAire Wi-Fi Thermostat App makes you the boss of your home's indoor air by helping you save money on energy bills and allowing you to easily maintain Healthy Air indoors. Reduce allergens, odors, and the proliferation of airborne viruses like COVID-19, the flu, and the common cold with the complete lineup of AprilAire Indoor Air Quality (IAQ) products. 
AprilAire Wi-Fi Thermostat App Features
The first thing you see when you open up the app is the temperature and relative humidity inside the home, and the temperature and weather outside the home. Additionally, you can find the upcoming 3-day forecast with pollen levels. 
Toggle Between AprilAire IAQ Products
You'll also be able to toggle between each IAQ product without searching for it, making adjustments simple and easy. This includes your additional thermostats within the home or inside your vacation home. You're able to make adjustments on the go whether it's cooling the temperature before you go to bed or adjusting your vacation home to the ideal temperature before your arrival. You can also schedule the temperature like with any of our other thermostats. 
Event-Based™ Settings
Within each AprilAire IAQ product section, you set their schedules and make adjustments too. You can set how often you want your home's air to be filtered with our Event-Based™ Air Cleaning. For example, if the upcoming pollen count is high, you can adjust your air purifier to filter for 24 hours per day. The same can be said of our fresh air ventilation system with our Event-Based™ Ventilation. For your humidity control, you can enable the highest and lowest relative humidity levels inside your home. AprilAire's humidification systems are set to bring in humidity when optimal. 
Alerts
In alerts, you can receive notifications if the indoor temperature or relative humidity levels inside your home are beyond the enabled limits. 
AprilAire Wi-Fi Thermostat App Available for Google and Apple Phones
The app is available for both Google Android and Apple iOS users. Search AprilAire Wi-Fi Thermostat App in both the Google Play or App Store. Then, just click download/install to get started.
Any Questions?
Please visit my.aprilaire.com if you have any questions or need assistance with setting up your AprilAire WiFi Thermostat in the app. You can also call us at 1-800-545-2219 or email us at apphelp@aprilaire.com.